Do you spend a lot of money on cloud services? Are you facing a lack of visibility on the service quality?
Digitalization is one of the main challenges for today's enterprises. Cloud technologies (e.g. Microsoft Azure, Google Cloud, AWS and Office365) are one of the key technologies driving digitalization in the industry.
Moving into the public cloud is becoming a 'must' for most companies. Usually business-critical application will be kept in-house whereas standard application will be shifted to the public cloud. Therefore, a vast majority of companies are running a 'hybrid' cloud strategy.
Amazon Web, Google Cloud, and Microsoft Azure are the main players in this business. Undoubtedly, these trends will bring lots of benefits. On the other hand, they will introduce an additional technology need to be monitored.
StableNet® solves these challenges and delivers one view on next- generation and legacy network & services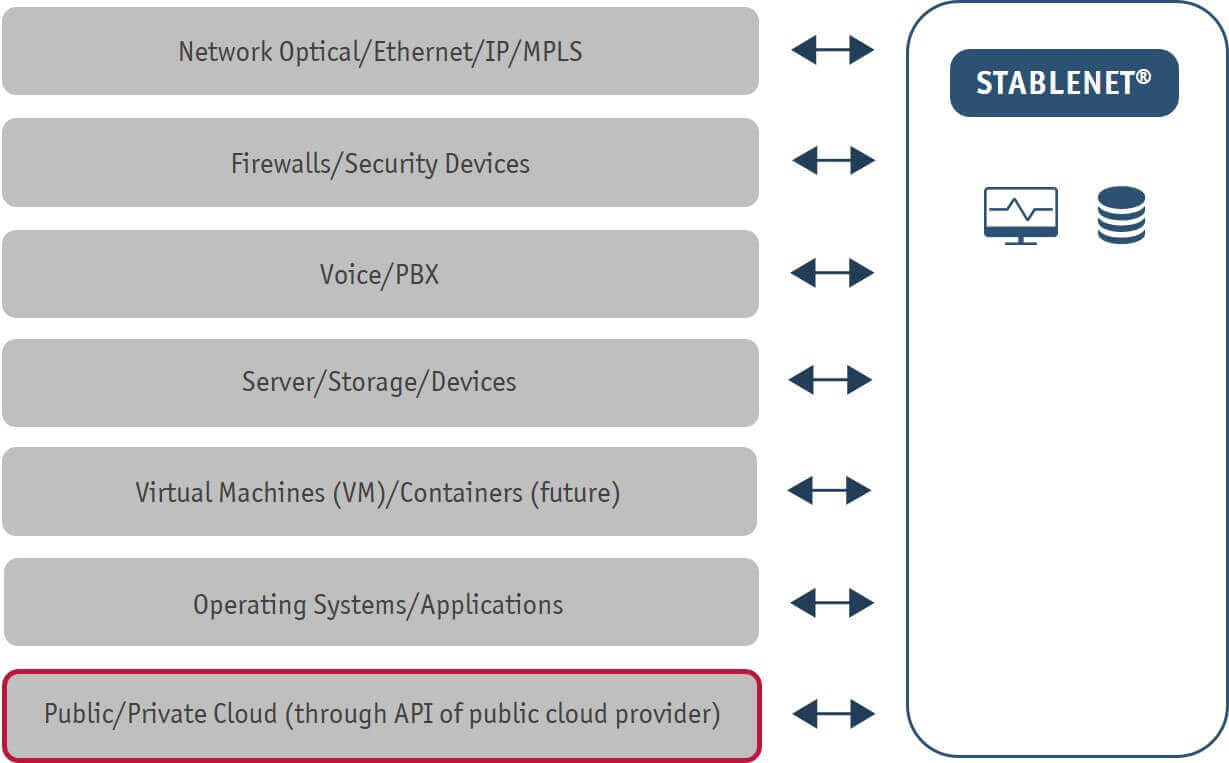 StableNet® is the perfect solution to put these new technologies under an umbrella together with legacy IT systems in order to ensure business continuity.
Ready to start your hands-on StableNet® experience?
StableNet® Cloud Monitoring Key Benefits
StableNet® – Next-Generation Network Management Software
StableNet® provides Network & Services Management for legacy as well as for next-generation infrastructures
Cross Vendor
StableNet® supports lots of vendors (e.g. Cisco, Huawei, Juniper)
Cross Technology
StableNet® can be implemented on multiple platforms, such as cloud, server, network, and IoT environment
Cross Silo
As a single-pane-of-glass solution, StableNet® provides performance, fault, and configuration management on a unified data platform
StableNet® provides Investment Protection
StableNet® will help IT managers to keep control on their investment
for next-generation as well as for legacy IT
StableNet® provides a unified platform for lots of technologies