Service Oriented Architecture & APIs
Extend the boundaries of your network and services monitoring
StableNet® offers open interfaces (e.g. REST) to allow an easy integration in your existing IT service infrastructure. Our unified management approach combined with our licensing model helps you to reduce CAPEX and OPEX cost. Moreover, StableNet® is designed to map with the state-of-the-art service-oriented architecture as recommended by TM Forum, where Infosim® is a long-term active member.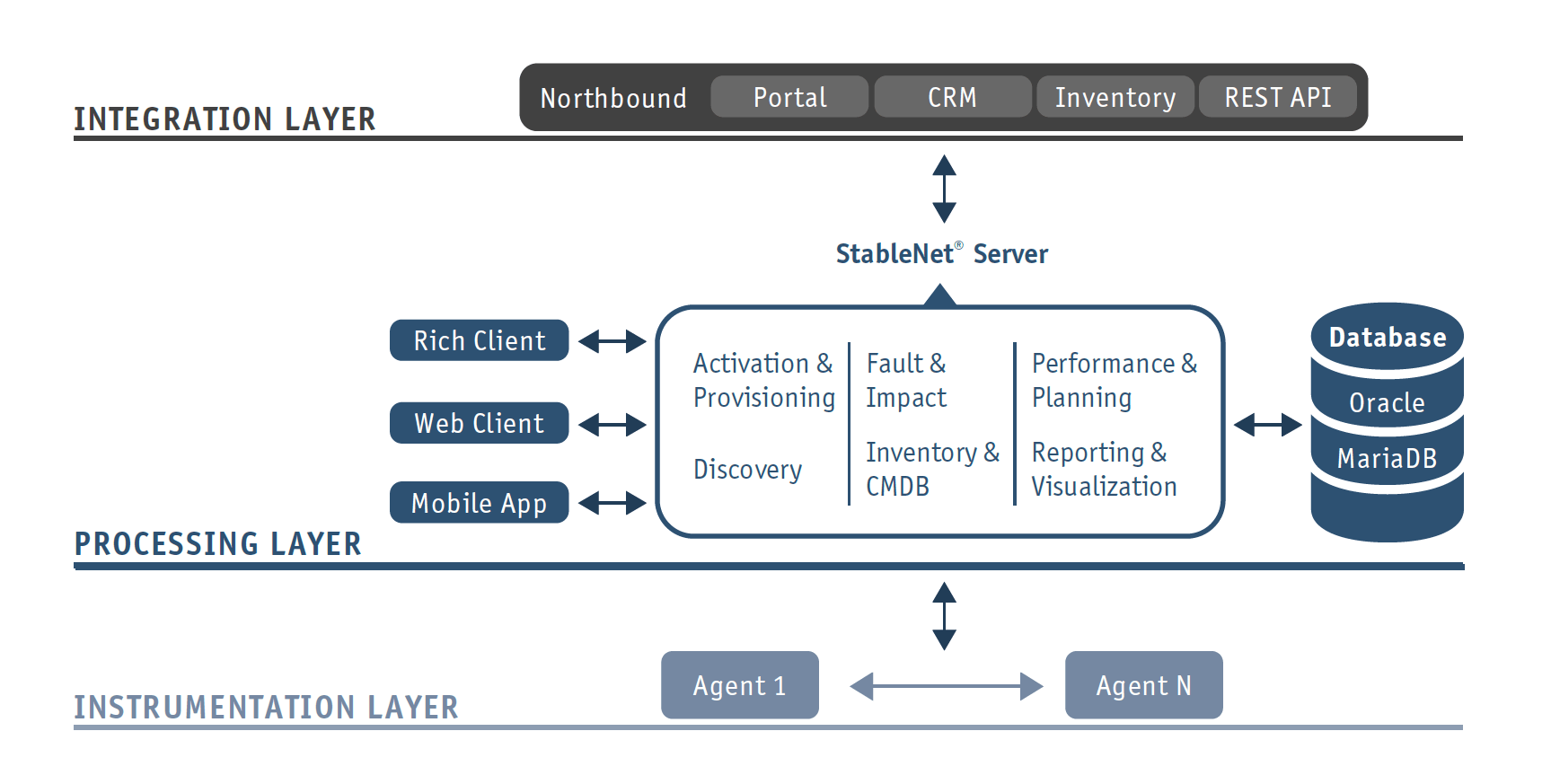 The distributed StableNet® Agents are one of the keys to scalability and high degree of automation in our solution. They provide the interfaces to the network infrastructure and thereby help with various tasks: distributed parallel discovery across multiple domains, managing very large infrastructure environments, collection of data, activation and automation.
The StableNet® installations are centrally administered via the StableNet® Server. All distributed StableNet® Agents are provisioned, configured and updated from the central StableNet® Server and central database. It requests the data from the agent. Multi-server operation requires StableNet® Telco as a base.
To interact with the StableNet® system, there is a Java rich client as well as a web portal available. The rich client was designed for daily operations by the network and system administrators. The web portal users have access to pre-generated reports and real-time data such as availability, trend indications, and SLA status information. The web portal can be customized for dedicated use by users and customers.
StableNet® APIs
StableNet® contains multiple open application programming interfaces (APIs) that enable the integration with third-party systems.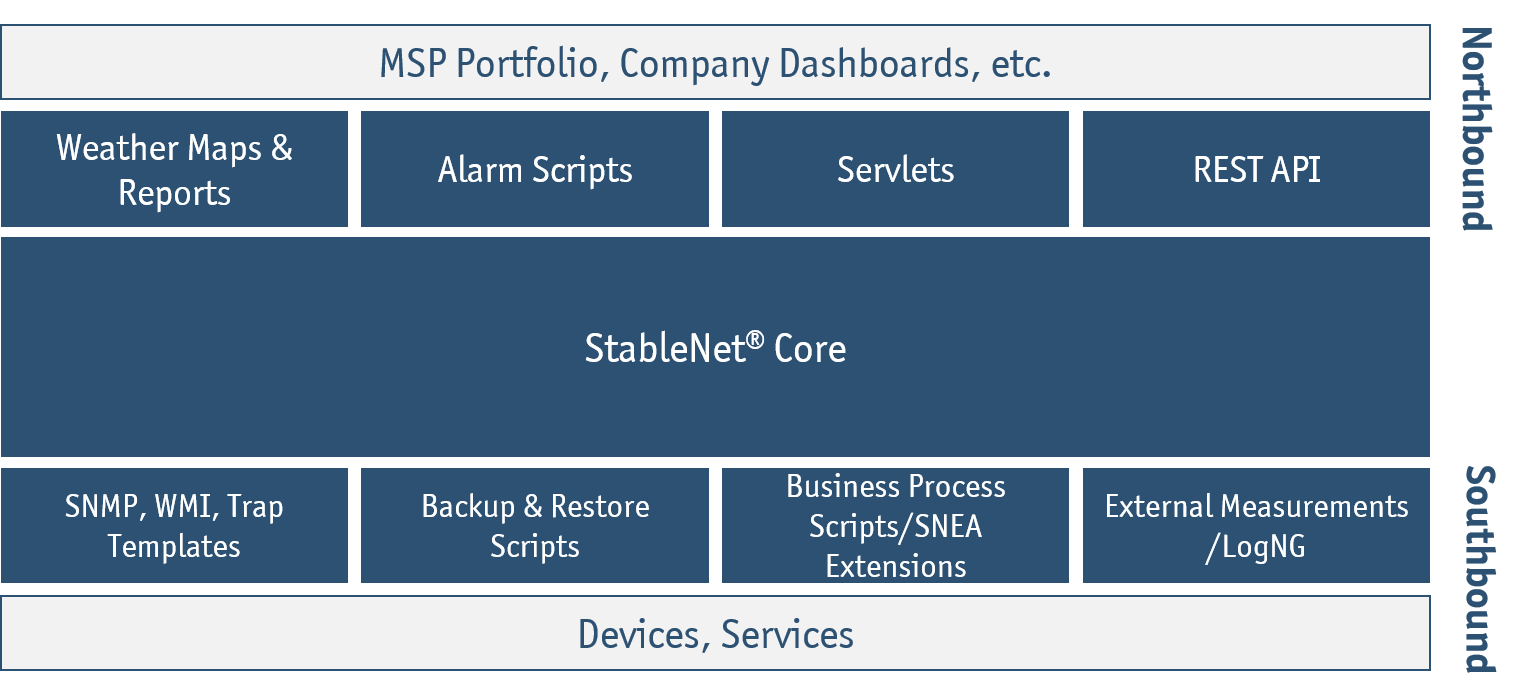 In addition, there is a powerful APIs that can be used to attach IT management systems and OSS/BSS solutions heading towards an automated Zero-Touch IT Services Operations Center.
Data collection
Large set of management protocols and interfaces are implemented to support a high level of flexibility to adapt to the given heterogeneous infrastructure.
High Availability (HA)
Cold Standby and High Availability options allow for eliminating single points of failure, protection against potential data loss, ensuring access to current data, and decreasing downtime.
Customization
Integration of many individual technical processes, devices, etc. beyond general standard protocols.
OSS and IT integration
StableNet® supports multiple open interfaces to ease the integration within the IT environment without modifications to the system.
Scalability
Multi-processing scalability via distributed StableNet® Agents.
Vendor-agnostic
StableNet® does support a large library of multi-vendor standard and vendor-specific devices.
Cross-silo
As a single-pane-of-glass solution, StableNet® provides discovery & inventory, performance, fault, and configuration management on a unified data platform.
Integration of business process monitoring scripts
Customizing StableNet® to your individual business processes enables holistic monitoring, without the need to restructure existing business processes.
Learn more in our Use Cases


Network, Service & Traffic Analysis
Ultimate network transparency


SD-WAN Monitoring
StableNet® helps you to operate SD-WAN and to meet your SLA commitments towards your customers


Cloud Monitoring
Full stack monitoring for all your cloud services


IT-Management & Business Process Management
Model and monitor your business processes


Service Oriented Architecture & APIs
StableNet® technology revolutionizes the management of large heterogeneous network infrastructures


Capacity Planning
Anticipate future financial and resource investment requirements
Ready for multi-vendor network management?