What is StableNet® Enterprise?
Network management solutions for network and application services
StableNet® Enterprise is a third-generation highly automated network management system. It enables IT departments to unify the management requirements of their IT infrastructures in a way that enables 'true-visibility' of the environment.
Being able to correlate Performance, Fault, and Configuration within a single unified application rapidly improves the Mean-Time-To-Repair (MTTR) and increases the service uptime thus maintaining high levels of sustained service availability to your customers, and providing a great end-user experience.
What can you expect from StableNet® Enterprise?
Selected examples of Modules for our Unified Network & Services Management-Solution
Interactive Failure Analysis
Multi-cloud and Office 365 Monitoring
StableNet® Enterprise
Network management at your fingertips!
The Benefit of StableNet® Enterprise
StableNet® Enterprise provides End-to-End visibility into the IT infrastructure. This guarantees a smooth and stable network operation. Bottlenecks can be localized and eliminated proactively, with the result that link overload and connection losses can be avoided. This leads to an improvement in network efficiency and a reduction of costs at the same time.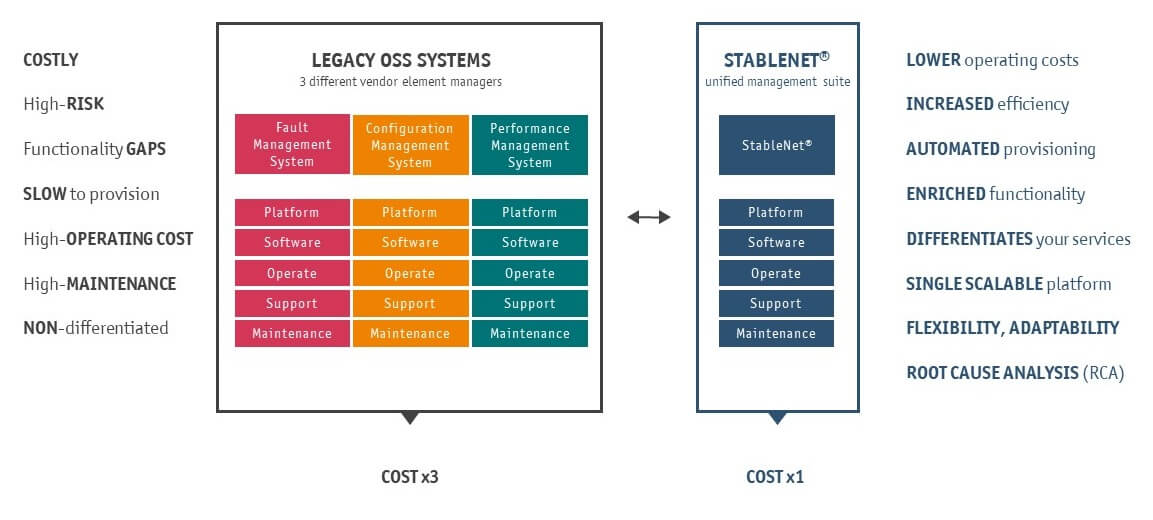 Current and reliable data is a crucial for making solid strategic and operational decisions. This data is the foundation for budgeting, forecasting, analyzing, reporting, and improving your business. Intelligent solutions are necessary for driving cost reduction, enhancing resiliency, and enhancing user experience. Solutions must work seamlessly across enterprises as well as business units.
StableNet® Enterprise for Retailers
StableNet® Enterprise for retailers is the next-generation software solution with primary focus on End-to-End IT Service Assurance. Eliminate "tool-hopping" and the high cost of managing multiple vendor solutions with StableNet® Enterprise for retailers.
StableNet® not only minimizes the risk of network downtime, but also enables retail IT organizations to deploy and operate networks that can help you with:
Infrastructure Management
Application Performance Management
Business Service Management
Retailers trust StableNet® to increase their service levels by reducing or preventing service disruptions. They can cut costs by automating network operations, and by enhancing quality of experience with proactive management of their services.
Business Process Management
Ensure product and pricing accuracy
Monitor the download of updated price and product information to your in-store devices such as scanner-check-out systems and electronic shelf labeling
Oversee the consolidation of multiple POS sales data on in-store IT hardware, as well as successful upload of such financial data to regional headquarters
Monitor the workflow and applications used for local creation of flyers and handouts
Automatically reconfigure all in-store devices with just one click
Automatic configuration of all store devices on first connect (Configuration Management)
StableNet® reduces downtime of store IT and network infrastructure by in-depth monitoring, a trend and a real-time Root Cause Analysis
StableNet® initiates automated alarms when payment terminals are unplugged – In fact, only authorized retail customer personnel may close such alarms; this is to ensure the highest possible attention to tampering and hacking attacks (Fault Management)
Maintain high security levels by identifying unusual traffic patterns
Use StableNet® Enterprise for both passive and active VoIP monitoring across your estate. Track real-time and historical data from all aspects of your VoIP, IPT, and IPCC systems to ensure the best service with limited jitter, packet loss, and delay.
Moreover, StableNet® provides clear visibility to the entire IT infrastructure. This combination facilitates efficient VoIP Management. By tracking real-time and historical data from IP equipment, the IT manager can identify root cause problems and remedy their effects on the VoIP quality.
VoIP key metrics like jitter, network latency, packet loss, etc. directly impact user satisfaction, and are fundamental indicators of network performance and service efficiency. With StableNet®, your IT manager is capable of quick problem solving when quality expectations are no longer met. In addition, responsible planning for future hardware upgrade is possible.
StableNet® Product Solutions
Network management at your fingertips!
StableNet® Telco
A unified Telco-grade solution providing Service Assurance, Service Fulfillment, Fault, Performance, automated Root Cause Analysis, Network Change & Configuration Management with open interfaces into your OSS environment.
StableNet® Enterprise
A unified management solution for IT Services, VoIP and Network Providers providing Fault, Performance, Root Cause Analysis, and Network Change & Configuration Management.