StableNet®
The all-in-one network and service management solution for your fiber infrastructure
Take advantage of a scalable, highly-automated FTTx service delivery solution
Simplify roll-outs and build long-term customer value
Today's broadband and transport networks are a vital part of the infrastructure for wholesale and end consumers.
This information pipeline is a main artery that sustains economic growth across the globe. It is also the conduit for network services providers to operate and deliver services from TV and internet to VoIP.
Network infrastructures are comprised of multiple vendors and technologies and business-specific systems Therefore you need a holistic OSS/BSS network and service management tool that allows you to deliver consistently on your SLAs.
Let' discover how StableNet® can help.

How StableNet® can assist in delivering your SLAs
A singe tool for Discovery, NCCM, Fault Management and Performance Monitoring
StableNet® Automated Network and Service Management provides a single tool to integrate
order management systems,
service desk,
trouble ticketing,
alarms & fault
network configuration,
discovery
reporting and much much more…
for your diverse broadband and fiber delivery infrastructure.
So whether you're a new provider looking to roll-out services and fulfill SLAs, or an experienced provider interested in a consolidated and automated solution, StableNet® has a portfolio of services, features and functionalities to manage even the most complex infrastructures. And with StableNet® as a Service, your solution can even be hosted in the cloud for quick and easy deployment.
From capacity planning to root cause analysis, StableNet® provides an array of automated, easy-to-use solutions geared towards helping fiber infrastructure businesses of any size.
As a leading 4-in-1 solution StableNet® covers functions from the following four pillars: Discovery &
Inventory
Improve network efficiency
and capture your assets
for insights Network Configuration & Change
Reduce configuration errors with vendor independent automation Fault Management & Root Cause Analysis
Resolve network problems quickly by getting pinpointed to the root cause Performance &
Service
Continuously measure KPIs and monitor SLAs to stay in control
Choose your solution – On premise or cloud based
Software adjusted to your needs
One size does not fit all, especially when it comes to software. Our network & service management solution comes in many different shapes and is adjustable to your needs.
StableNet® Telco
 A unified Telco-grade solution providing Service Assurance, Service Fulfillment, Fault, Performance, automated Root Cause Analysis, Network Change & Configuration Management with open interfaces into your OSS environment.
StableNet® as a Service
 Software as a Service: On-demand application delivery – get the benefits of StableNet® without all of the up-front cost or ongoing complexity of maintenance.
More material on our network & service management solution for fibre infrastructure
For more information on this topic, see the following Use Case and Case Study. Read about how StableNet® can help network service providers of all sizes manage their fiber network: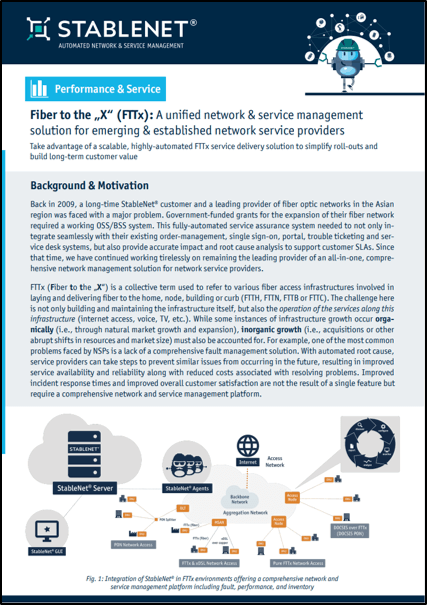 Fiber to the "X" (FTTx)
Use Case on a unified network & service management solution can help emerging & established network service providers simplify their roll-out and build long-term customer value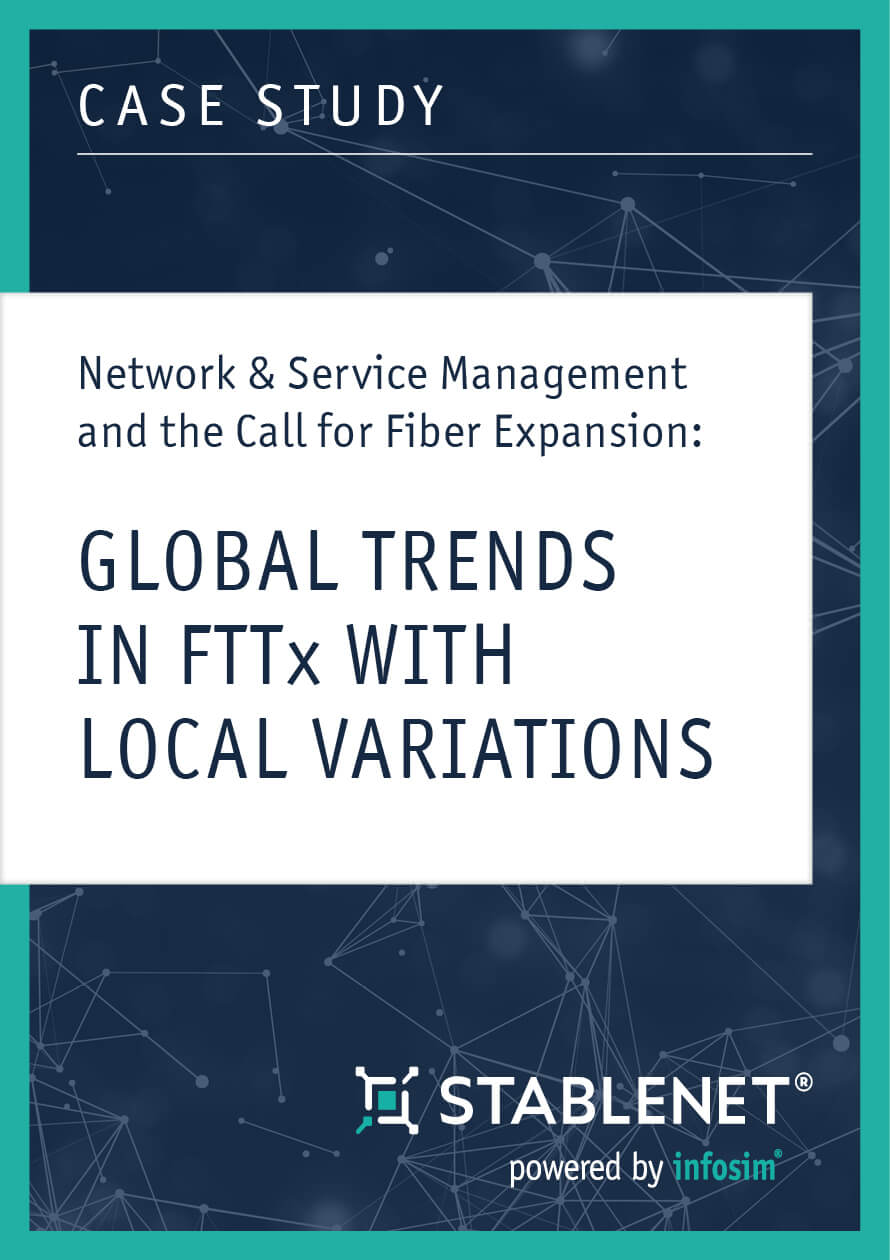 Network and Service Management and the Call for Fiber Expansion
Detailed Case Study on the current changes in the fiber market and how developing a well-planned network management philosophy can help providers take their network performance to a new level
Sign up for a StableNet® demo sessions:
To give you the opportunity to learn more about the StableNet® Automated Network & Service Management Solution, we offer quick live demos dedicated to your special needs.
Of course you will be able to ask questions afterwards and to get in touch with our StableNet® experts.