StableNet® Performance & Service Management
Integrating Telemetry into Your Network: The all-in-one network and service management solution
Telemetry Data with StableNet®
From SNMP to Telemetry: One holistic platform solution to manage it all
In a broad array of fields and applications, telemetry is gaining popularity. For network management, this interest is growing quickly as manufacturers are starting to act. More and more vendors are announcing support for telemetry, and isolated forerunners are even going so far as to completely discontinue support for SNMP and rely entirely on alternative methods.
The SNMP protocol is now more than 30 years old and the need for alternatives has increased due to the growing complexity of networks. The SNMP protocol is mainly criticized for:
its low granularity, with data typically being generated between 5 and 30 minutes.
the inevitable resources required from devices that are constantly being polled.
With telemetry, near-real time data and lower device-side resource requirements are certainly important improvements.
Discover how StableNet® can help in a quick demo.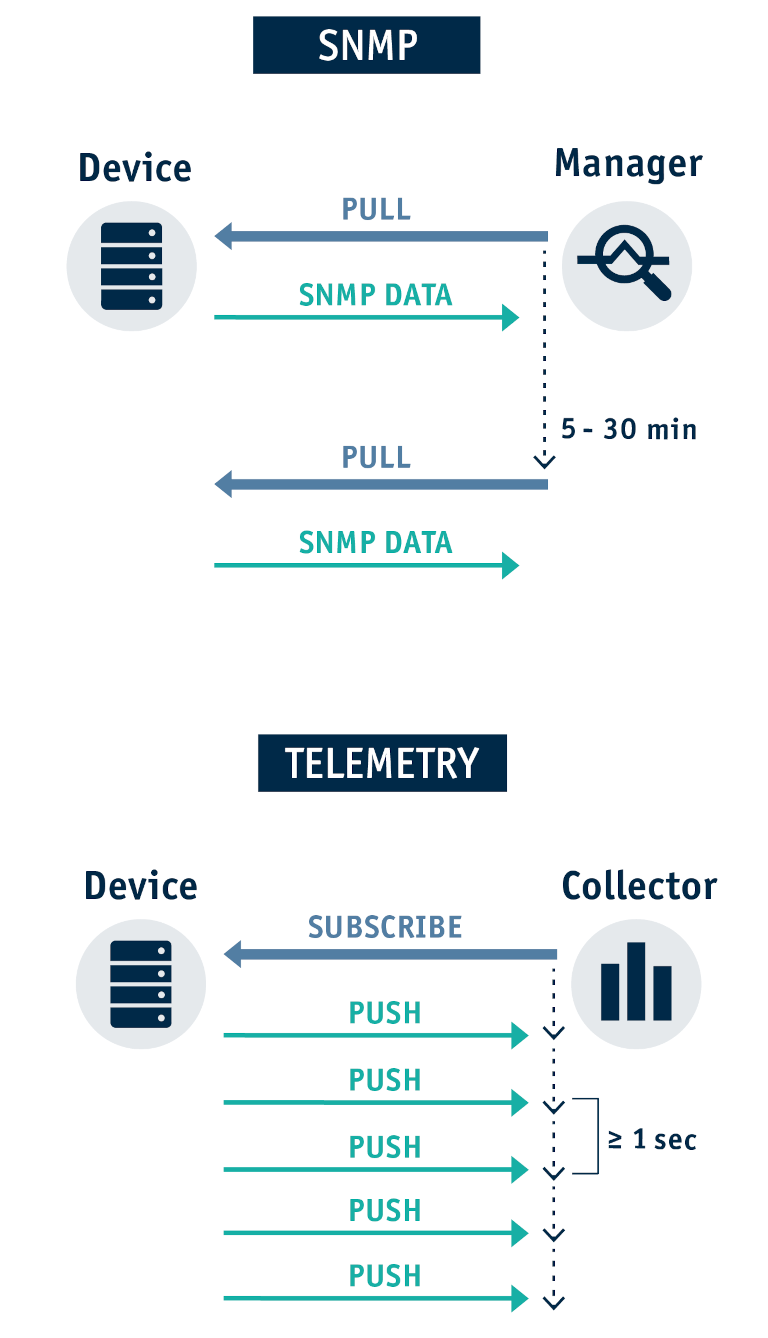 Advantages of the StableNet® Telemetry Solution
A single tool for Discovery, NCCM, Fault Management and Performance Monitoring
The telemetry solution from StableNet
®
is highly automated, scalable and customizable, so that your network monitoring always stays ahead of the curve. The main advantages are:
Scalable: StableNet® is a system that grows with you and your needs and requirements
Customizable: With the StableNet® vendor- and technology-independent network and service management platform, you do not have to adapt your workflow to StableNet®, but StableNet® adapts to you.
Highly Automated: Together with the consolidation of various management tools into one platform, automation forms the basis of StableNet®, which gives you a wider range of simplified and standardized workflows.
"Future-Proof": Due to its vendor- and technology-independence, StableNet® offers you a high degree of agility and freedom in designing your network architecture.
While new protocols and technologies continue to provide advantages to the functionality and scalability of network devices and infrastructures, StableNet
®
has a portfolio of services, features and functionalities to
manage even the most complex infrastructures.
And with StableNet
®
as a Service,
your solution can even be hosted in the cloud
for quick and easy deployment.
From capacity planning to root cause analysis, StableNet® provides an array of automated, easy-to-use solutions geared towards helping businesses of any size.
As a leading 4-in-1 solution StableNet® covers functions from the following four pillars: Discovery &
Inventory
Improve network efficiency
and capture your assets
for insights Network Configuration & Change
Reduce configuration errors with vendor independent automation Fault Management & Root Cause Analysis
Resolve network problems quickly by getting pinpointed to the root cause Performance &
Service
Continuously measure KPIs and monitor SLAs to stay in control
Choose your solution – On premise or cloud based
Software adjusted to your needs
One size does not fit all, especially when it comes to software. Our network & service management solution comes in many different shapes and is adjustable to your needs.
StableNet® Telco
A unified Telco-grade solution providing Service Assurance, Service Fulfillment, Fault, Performance, automated Root Cause Analysis, Network Change & Configuration Management with open interfaces into your OSS environment.
StableNet® Enterprise
A unified management solution for IT Services, VoIP and Network Providers providing Fault, Performance, Root Cause Analysis, and Network Change & Configuration Management.
StableNet® as a Service
Software as a Service: On-demand application delivery – get the benefits of StableNet® without all of the up-front cost or ongoing complexity of maintenance.
Our Collateral on Streaming Network Telemetry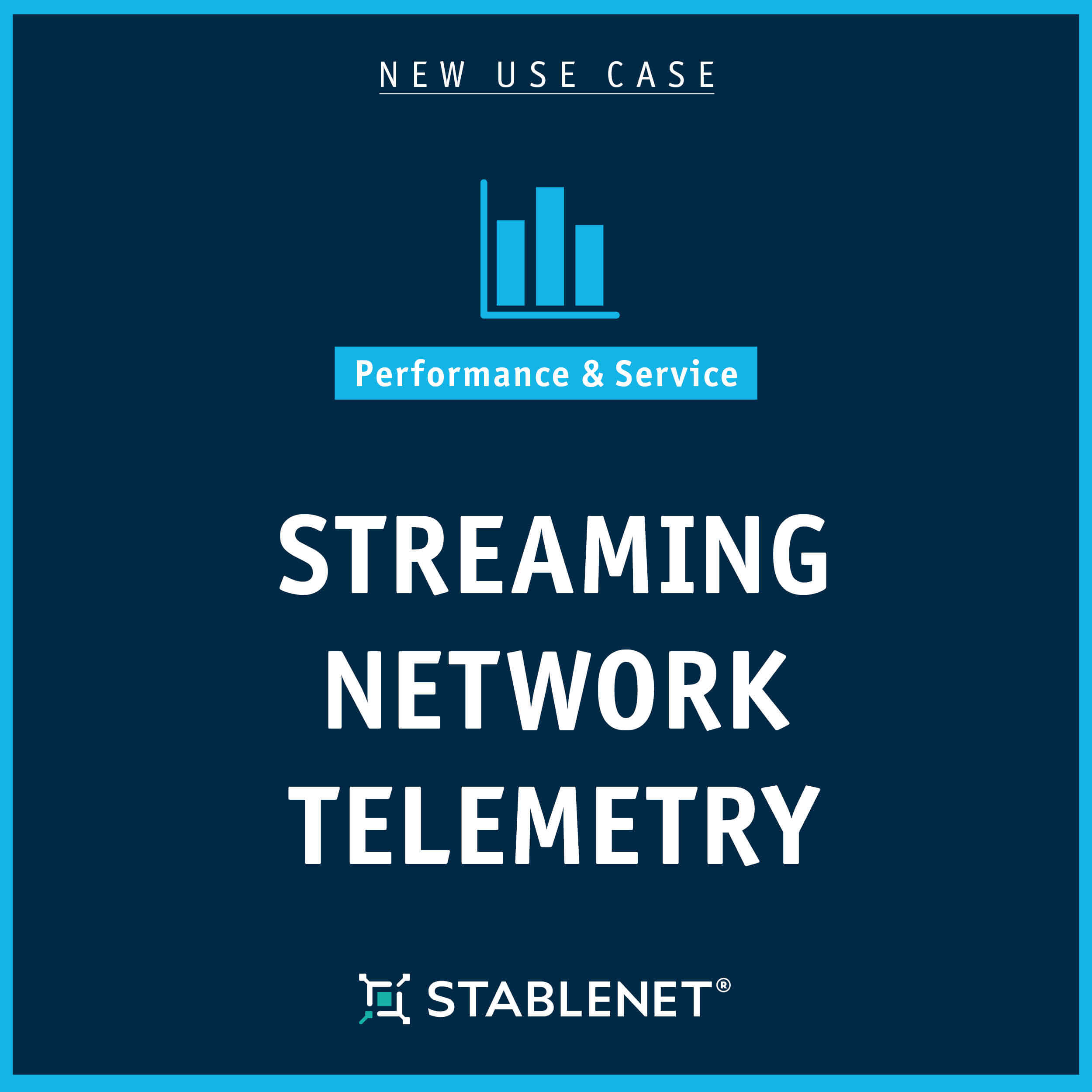 Interested what StableNet® can do for you? Then this use case is worth a read. Take advantage of streaming telemetry for near-real time data with a scalable and highly automated solution that opens a new world of customization and insight into the KPIs that matter most to you.
This paper seeks to provide a wide base of knowledge for what telemetry is and how it can be incorporated into your network management.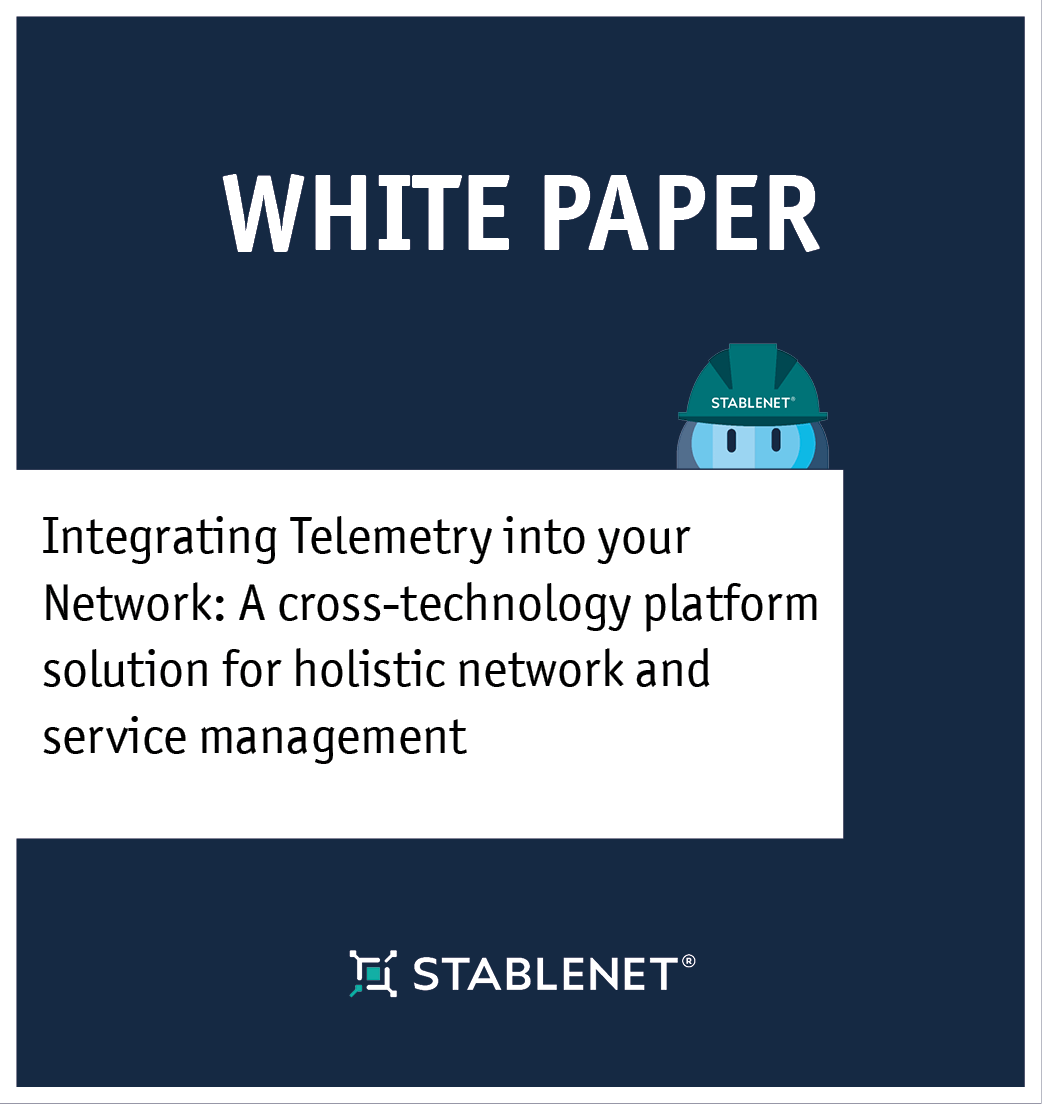 Sign up for a StableNet® demo session:
To give you the opportunity to learn more about the StableNet
®
Automated Network & Service Management Solution, we offer quick live demos dedicated to your special needs.
Of course you will be able to ask questions afterwards and to get in touch with our StableNet® experts.