 StableNet® Blog

Regular posts on all things StableNet® from a sales, techie, or marketing perspective
Network Automation Insights

Stay tuned and keep informed with our blog series about the future of automation in network and service management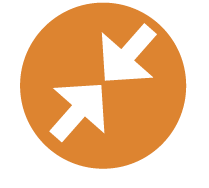 Automation Series – Part 1
A Network Automation Platform improves Operations to deliver Business Results
February 25th 2021, Würzburg
With 2021 well underway, Infosim® has been busy rebranding its corporate design, launching StableNet® Annual Release 10 with an entirely new logo, and changing the tagline from "Unified" to "Automated Network & Service Management" as our key message… and for good reason.
Conversations with partners and customers continue to reveal that unification of the existing network management tool landscape can be an important cost reduction motivation. However, in almost every case, the underlying project driver was automating time-consuming tasks in network operations for long-term efficiency gains.
Our network automation blog series puts a spotlight on the underlying automation eco-system and its associated challenges. With ever-increasing amounts of endpoints and growing technology complexity, the drive towards network automation has been around for a long time in the telecommunications industry.
Depending on who you ask in your organization, automation initiatives translate to something very different across departments. This is not a surprise as there are plenty of tasks that could be addressed in almost every area. The Venn diagram below centers automation around agile software, IT infrastructure developments, and flexible network connectivity to improve the bottom line.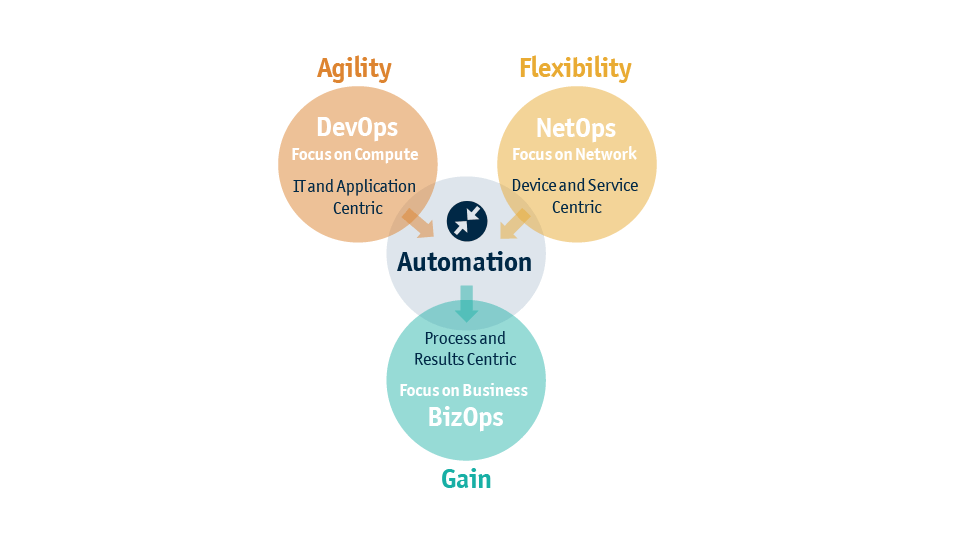 A tandem of DevOps and NetOps empowers digital transformation initiatives towards a collaborative, business-centric engagement that facilitates innovative service creation. It is only through a combination of the two disciplines that real performance improvements can be achieved.
While both automation initiatives are working towards the same target, they operate in very different environments. DevOps focuses on computation for IT infrastructure and applications. "Agility" refers to software production and programming tools with an expectation that the underlying network provides uninterrupted connectivity and "infinite" bandwidth.
NetOps engineers in turn have to master an increasingly fragmented and heterogeneous network environment. Tasks have dramatically grown to integrate outsourced public and/or private multi-cloud technologies, virtualized network functions, new hardware deployments and existing legacy infrastructure into a complex, end-to-end network solution. More often than not, the growing infrastructure needs to be handled by the same resources.
In a world that constantly requires us to do more with less, a network automation strategy becomes critical to retain operational control
When applying automation tools with DevOps methodologies, network teams would be forced to acquire serious scripting and programming skills. This is expected to happen on top of daily routines, which already require substantial resources.
Technologically diverse multi-vendor networks present the most complex automation challenge for seamless end-to-end provisioning. Manual network management methodologies, which typically use vendor-specific tool chains, continue to prevail for the majority of network engineers.
When stepping up to the network automation challenge the selected tool kits must be universal and generic in nature. Requirements will invariably change, impacting the entirety of your network infrastructure. This calls for an automation platform that works across different technology stacks, multiple vendors and is able to overcome functional silos.
A purpose-built platform like StableNet® delivers out of the box automation workflows. This provides instant results without asking for time-consuming programming investments in advance. The solution includes plenty of flexibility to tailor a particular implementation to individual needs for seamless integration into existing OSS/BSS environments.
Stay tuned for my next blog post where I'll dig deeper into the significance of NetOps and how we incorporate key tenets in our approach to Automated Network & Service Management.