 StableNet® Blog

Regular posts on all things StableNet® from a sales, techie, or marketing perspective
Network Automation Insights

Stay tuned and keep informed with our blog series about the future of automation in network and service management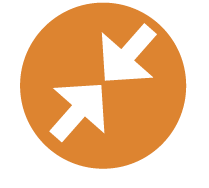 Automation Series – Part 2
Platforms and Workflows that Automate Operations
April 22nd 2021, Würzburg
This post is part of Robert´s ongoing blog series about Network Automation. If you are interested in the topic, you can check out the previous post here.
Time has been flying since my last automation blog was published. In a nutshell, the key messages can be summed up with the following: having an automation strategy is critical and successful digital transformation initiatives require NetOps and DevOps to keep pace.
Without any doubt, multi-faceted automation tasks cannot be uniformally covered with a "one size fits it all" solution. In other words, each firm must establish focused priorities and functional compromises in order to develop the foundation for a successful network automation solution.
Let's have a brief look on options and selection criteria.
In order to efficiently run complex networks, organizations invariably require a network management platform that enables a certain degree of customization. In order to do this in-house, you must have experience and talent to develop firm-specific solutions. This option could make sense assuming you have network engineers at hand who are able to precisely describe their needs for software developers, who in turn translate those specifications into code. The end stages require working closely with the operations team to test and streamline your brand-new network automation engine front-end for an optimized user experience.
This is exactly the "bread and butter" work we constantly put into StableNet® as a pre-built commercial platform. The uniqueness lies in providing a platform which can be enriched by abstracting workflows from requirements for different customer networks without compromising solution flexibility. Backed up by years of experience, we strongly believe that our workflow designs and script integrations provide you with a high-quality framework that substantially reduces your timelines to meet network automation objectives.
While open source solutions may seem to offer cost savings, this isn't necessarily the case over the long haul. Over the past few years, Ansible has made inroads for server and application deployment automation and has become the de-facto standard in IT environments. More recently the very same methodologies were applied for basic device configuration tasks to repeat that success in network automation. But operations of the various ingredients require Ansible Tower – a commercial addon – which puts playbooks and modules into a repository that is complemented by a graphical front end to handle deployments. After assessing economies of scale and associated cost, the actual cost-savings analysis might look different. To uncover hiddent details, we suggest a functional and commercial comparison between Ansible and StableNet® which is mapped to your specific network automation requirements. The result may surprise you, in particular when you honestly factor total cost of ownership into the equation. Apart from that, StableNet® leverages a single source of truth database which collects, consolidates and correlates your entire network inventory, metrics and performance data seamlessly across the whole infrastructure. Our RESTful API is 3rd-party-integration "friendly" and, most importantly,  your automation solution is controlled and maintained by regular release updates.
Network management platforms?
An overwhelming amount of network management platforms are offered in the market. They can be categorized into vendor specific element managers and vendor independent umbrella solutions. Not that many have network automation built in.
The key advantage of vendor specific solutions are certainly rich functionalities when deploying, configuring, monitoring and operating your networked islands. On the downside, this translates into numerous dependencies. Automation across multiple element management systems is mission impossible and cloud integration yet another obstacle to overcome. As soon as multi-vendor network infrastructure management is targeted, vendor neutrality becomes a mandate.
The task of mastering automation challenges across multiple technologies, vendors and operational silos requires additional platform flexibility and agility.
For a successful platform introduction, out-of-the-box functionality is important. Powerful template development options, meta data enrichment, flexible script integration, multi-tenant access, policy logic functionalities, security compliance and workflow process automation become of key importance to customize the solution for individual needs.
Essentially the ease of platform programmability and adaptation capabilities, along with price, are the main differentiators when comparing vendor independent implementations.
We have categorized common denominators and typical network automation workflows in the diagram below: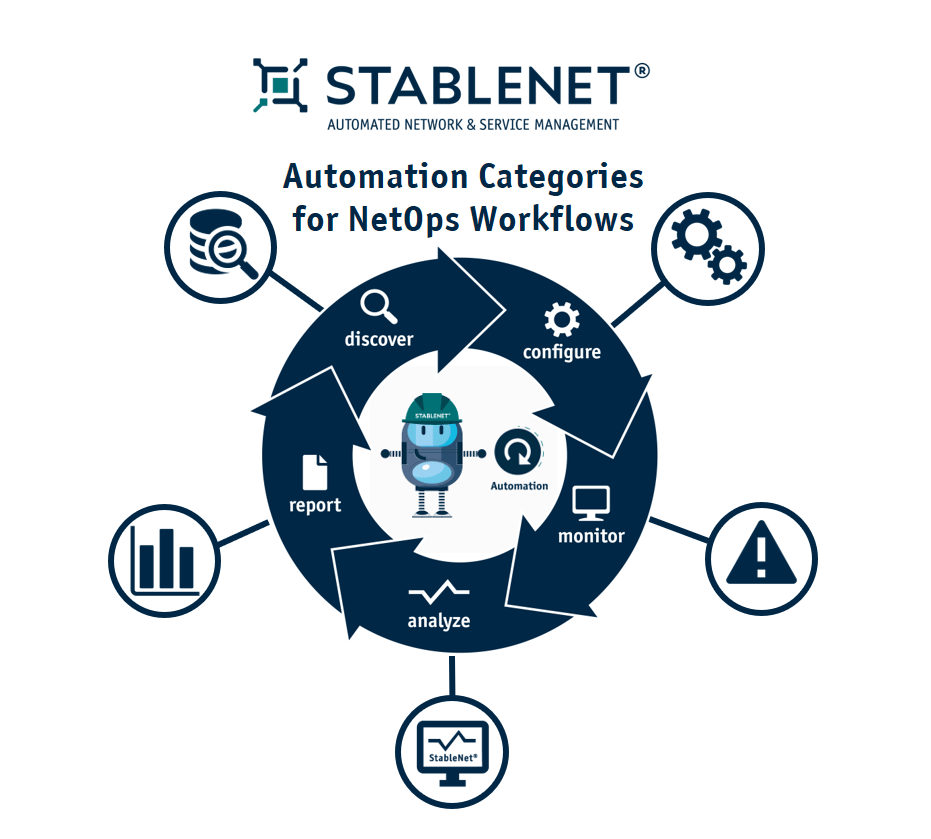 StableNet® automation areas are built into inventory discovery, network element configuration and compliance tasks, constant performance measurements and monitoring, gathered data analysis and visualization-enriched reporting.
Are you ready for a network automation platform that provides vendor neutrality and flexibility without growth limitations? If so, it is probably the right time to increase operational efficiency and look at StableNet® Automated Network & Service Management as an option for your multi-vendor environment.
If you want to read more about Network Automation, you can check out the previous post here or consider a call to discuss.