Reporting & Visualization

StableNet®  is the first choice for real-time and historical reporting and visualization. Additionally, it allows execution of meaningful trending analyses for forecasts.

StableNet
® 
has a highly flexible reporting engine with comprehensive web dashboards and targeted reports, so that you can see the real-time status of your network infrastructure and business services. Rapid troubleshooting of network problems, understanding trends, and verifying compliance of service levels is navigated with ease.
Flexible KPI definition to support your OLA & SLA reports, as well as business level reporting, End-of-Life & End-of-Service reports, policy and compliance validation, and further solid inventory visualization capabilities are also part of the StableNet® reporting portfolio.

The StableNet® reporting and visualization system is highly scalable. All reports can be fully automated and customized by the internal reporting editor according to your individual business needs.
Network, Service & Traffic Analysis
Ultimate network transparency
Real-time & historical analysis, reports & trend

StableNet® helps you answer critical management questions about your network, e.g. where the traffic sources are located, what policies are being followed, or about the current application trends and behaviors.
With the comprehensive StableNet® Analyzer functionalities, you know what your normal modus operandi is, enabling you to identify and receive an alert on any deviation from the known state. Real-time views generated via the StableNet® Analyzer allow for  optimum network transparency.
You can create forecasts based on current data and configure SLA threshold markers to proactively alert and inform when traffic deviation breaches occur. 
Understand your network behavior and trends, along with how users and applications consume resources either historically or in real-time.
Flow Portal table with details
Flow Portal Hosts Time Statistics
Monitor – Measurement – Trend

System-aided real-time analysis
Capacity planning, trends, SLA/OLA
Time-to-threshold monitoring
Correlation between different measurements
Large set of available charts
Extensive statistical functions
 Measure once – report many times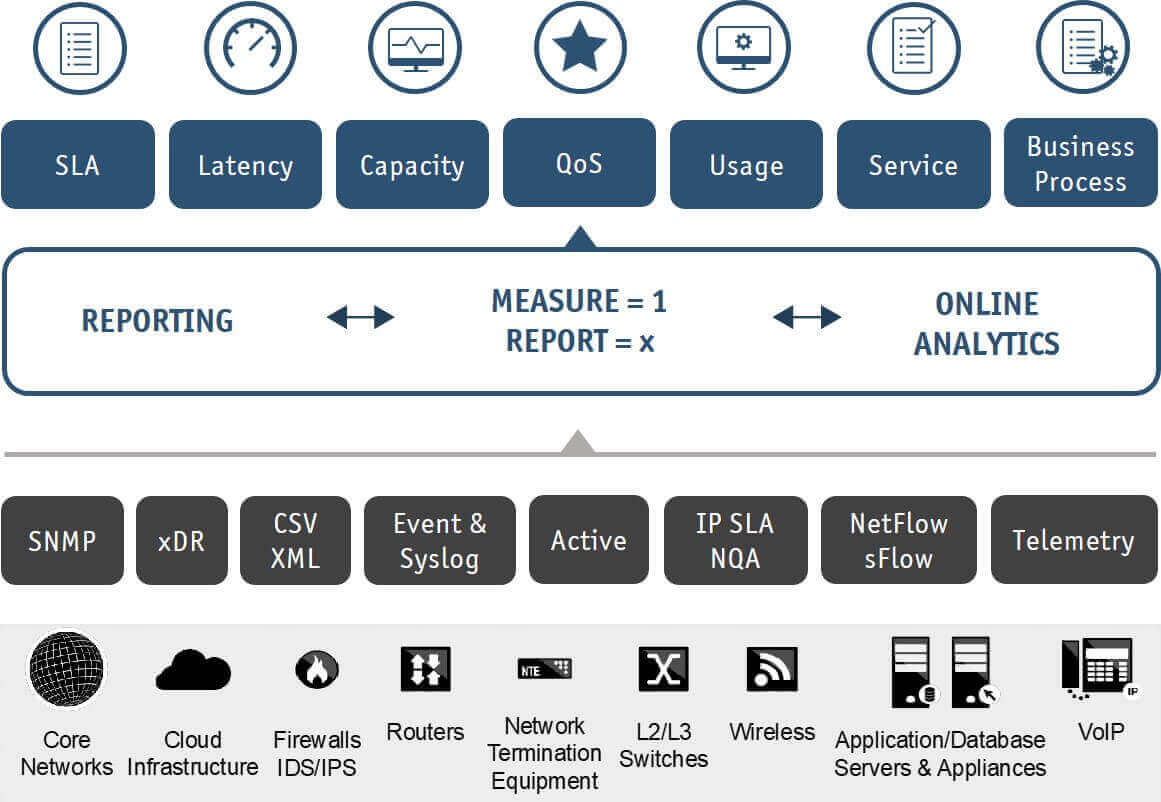 Different types of analyzers & views
For nearly all types of data, such as measurements, monitors, and status.
Traffic control & transparency
Understand where the traffic sources are located, who and what is consuming the bandwidth, etc.
Threshold monitoring
Monitor SLAs and OLAs technically against thresholds and highlight required actions.
Quality-of-Service (QoS)
How is QoS working? Document your IT services quality through automated, comprehensive reports for your target users.
Policy management
Are network usage policies being followed?
Cut down Mean-Time-To-Repair
Diagnose network problems faster.
Foresight & proactive management
Monitor application trends and behaviors, gain actual status information across distributed network, etc.
All network facts at a glance
Identify hot spots, bottlenecks, capacity trends, and SLA trends to proactively prevent upcoming issues before they hit, and be confident in make the right investments in the right areas, based on facts.
Root Cause & Impact Analysis
Auto-correlation of alarms
Automated Root Cause Analysis

StableNet® combines its real-time analysis system with a very efficient and automated Root Cause Analysis system. Due to its dependency-based analysis algorithm, the base for the root cause system is automatically created from the auto-discovery and inventory data, so there is no need to define rules manually. Root Cause Analysis also works in meshed IP networks.
The Root Cause Analysis shows the source of the problem, all affected devices and areas, and hereby allows very effective troubleshooting. It is based on both, fault and performance management data. 
Hence, the otherwise undetected critical service conditions are recognized and highlighted even if the fault management system indicates full availability with degraded performance levels at the same time.
Most often, one problem causes many alarms in the network. StableNet® detects all real root causes as fixing a single one solves the network problem including all the symptoms.
Alarm Correlation & Fault Isolation
Auto-Triggering & Auto-Clearing
The automated Root Cause Analysis and alarm processing allows to automate the triggering and clearing of trouble tickets by directly addressing the problem-causing element ("Dark NOC" operations).
Stateful Alarm Monitoring
The very efficient StableNet® Alarm State Machine processes and reduces even large volumes of alarms to a usable level.
Quick Isolation
Dependency graphs, based on automatically updated inventory and discovery data, allow an almost instant indication of the root cause and the affected areas which avoids time-consuming rules parsing.
Business Impact & Business Value Assignments

Automated Assignment
on impacted areas via automated Root Cause Analysis.
Interactive Assignment
Easy interactive assignment of business value to a service monitor – in case of a service outage or performance degradation (threshold), a pre-assigned business value will be summed up.
Integration of External Scripts
Rapid and easy integration of external business process monitoring scripts via StableNet® XML templates by definition of the input and output parameter of the external script.
Syslog Portal with syslogs
Syslog Portal with syslog detail
Clear & actionable information
A single alarm shows the problem-causing component with the ability to directly drill-down to the respective device which had caused the performance issue or fault.
No manual rules updates
Day-by-day infrastructure changes are automatically tracked by discovery. The rules-free dependency graphs are updated accordingly.
Alarm & event correlation
Intelligent correlation for fast problem identification, classification, investigation, and diagnosis.
Dynamic Rules Generation (DRG)
DRG robotically expands and contracts rule sets to keep troubleshooting data at optimum levels constantly, without human intervention.
Trouble ticket system integration
StableNet® can be configured to interwork and fill in the trouble ticket entries of commonly used trouble ticket and incident management systems.
Measurability
of the efficiency of troubleshooting (e.g. ticket number).
Business process integration
Seamless integration into your business processes, e.g. ticket system.
Proactive management
Isolate and fix occurring network problems before customers call.
Cutting down Mean-Time-To-Repair
Minimizing downtime expands your service availability and has a positive impact on your revenue.
Policies, Vulnerabilities & EoX
Network Configuration & Change Management (NCCM) and Vulnerability & Lifecycle Management (VLM)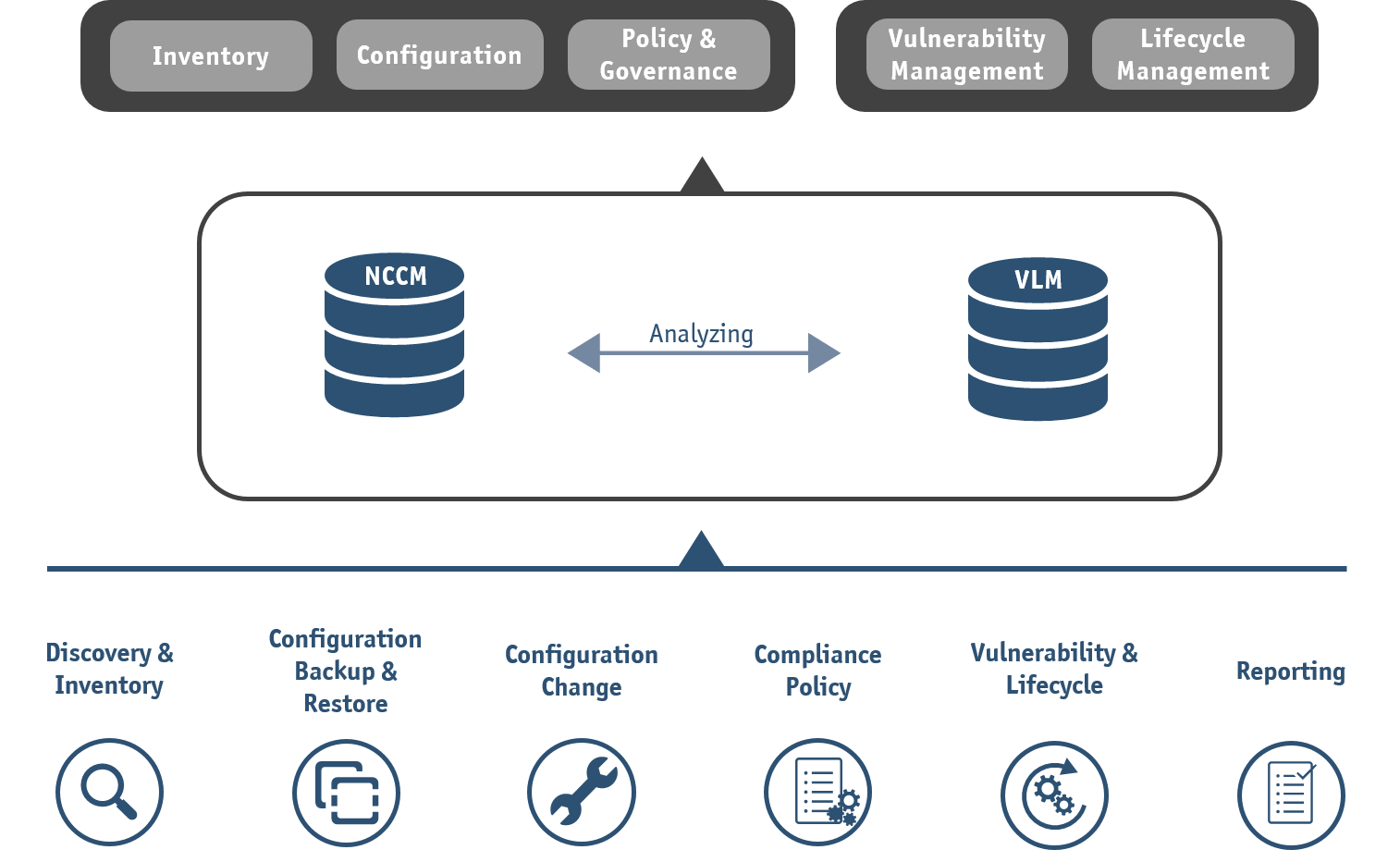 Policy & Compliance Validation
StableNet® performs policy checks on devices and systems, and can execute defined configuration changes.
Policy Checking Jobs are efficiently handled by distributed StableNet® Agents which are constantly checking configuration deviations from corporate standards. Further, Policy Check Scripts can be used for custom or even more complex checks.
All these checks produce violations or compliant results similar to measurement data. They can be displayed and reported in the StableNet® Group Analyzer and Policy Check Analyzer. If violations are detected, alarms can be raised automatically.
Due to the comprehensive compliance reporting capabilities within StableNet®, compliance-relevant data and business workflows can be monitored.
Enforcing of corporate policies and regulatory requirements, and quickly viewing configuration deviations from those standards.
Key Features – Policy Compliance & Governance

Regulatory compliance standards
Define compliance (service) design rules
Remediation action when a compliance policy is violated
Define compliance policies to identify security weaknesses
Define baselines & approved configuration compliancy
Policy violation analytics
StableNet® has the capability to scan and analyze the inventory database to check device types, associated card types, and operating system software for vendor lifecycle announcements.
Additionally, we offer a service for End-of-Life (EoL) and End-of-Service (EoS) data for different vendors to be compliant with the actual vendor announcements. 
The output of this critical information provides an encompassing view of uncovering potential risks, identifies software and hardware obsolescence, allows to align individual technology needs of your organization to the transformative ambitions of the business, and creates a foundation for best practice modern architecture standardization.
The lifecycle reports can be used to feed into hardware and software infrastructure planning, risk assessment, and contribute with optimization of OPEX & CAPEX refresh business cases for financial planning and budgeting purposes.
Lifecycle tracking for compliance, asset, and financial planning.

Group Analyzer with EoX table without devices
Key Features – Lifecycle Management

Lifecycle hardware scanning
Lifecycle software scanning
Lifecycle vendor-announcement update
Dashboard creations for lifecycle analytics
Vendor-announced lifecycle reporting
Advanced multi-vendor device vulnerability identification and remediation
You can also take advantage of an annual contracted service which automatically delivers new vulnerability scans for your network.
We enrich the vulnerability announcement of different vendors with dedicated checks to minimize the vulnerability risks within your network equipment installations.
Automated system vulnerability checks can be run based on Infosim®-enriched vendor-provided vulnerability bulletin information. Reports can be generated showing vulnerability and security compliance.
Your network is immediately checked for any new vulnerability notifications and the time the network is exposed to potential danger will be significantly reduced.

Vulnerability report with history
Vulnerability report with summary
Vulnerability report with details
Key Features – Vulnerability Management

Vulnerability hardware scanning
Vulnerability software scanning
Vulnerability configuration scanning
Statistics & analytics on vulnerabilities
Vulnerability vendor auto-announcement update
Vulnerability fix criteria
Customized vulnerability reporting
Automated reports
Automated generation of reports as well as automated display of reports about affected devices in your network.
Automation
Ability to handle complex infrastructures automatically.
Policy & compliance validation
Intelligent configuration policy management using advanced logic snippets or scripts.
Time savings
through automated comparison of measurable rules 24×7 security bulletins with current firmware releases, as well as checking the deployed IOS version states versus available updates.
Reduction of risks
through identification of your devices which are no longer sold, no longer covered by vendor SLAs, or have reached End-of-Life.
Proactive intelligent budgeting
Enables planning for future hardware exchange and your budget planning.
Maximized service availability & reduced MTTR
through configuration and policy governance.
Dashboards & Weather Maps
Fast overviews on complex services
Cross vendor – cross silo – cross technology

With StableNet®, dashboards and reports can be designed and created in a very flexible manner with various layouts, diverse content, and corporate design. StableNet® allows for instantly switching between real-time analysis graphs and history reporting over a selected time period.
Dedicated functions, dashboards, topology views, and reports can be created ad-hoc to ease and match to the workflow of operations staff and customers.
Dashboards and reports can be created for the JAVA Rich GUI, for the Web GUI, and for the StableNet® Mobile App.
Gain the real-time network, services, systems status, and performance visibility you require to show and demonstrate as a most efficient IT operations team and IT management.
Holistic service views in real-time for your large-scale IT infrastructure and services

Service availability over time
Root cause navigation & analysis

Flexible GUI setup & automated web widgets
allow for interactive and ad-hoc setup of dashboards and reports, variable number of individual charts, and element filters to select the dashboard content.
Role-based dashboards & reports
Highly customizable configuration for different groups and users.
Web portal views
Event status, dedicated reports, analyzer (charts, navigation, groups, impact, SLAs).
Holistic overview on network status & services
Infrastructure topology on Maps, Weather Maps and Geo Maps showing the current services status.
Proactive network management
Graphical visualization of capacity and trends.