StableNet® as a Service (SaaS)
StableNet® is a fully integrated 4-in-1 solution in a single product and data structure, which includes Configuration, Performance, and Fault Management, as well as Network and Services Discovery.
By combining the powerful StableNet® Server hosted in a cloud environment and the flexible and ultra-scalable StableNet® Agents, Infosim® now supports a new business case for monitoring out of the cloud.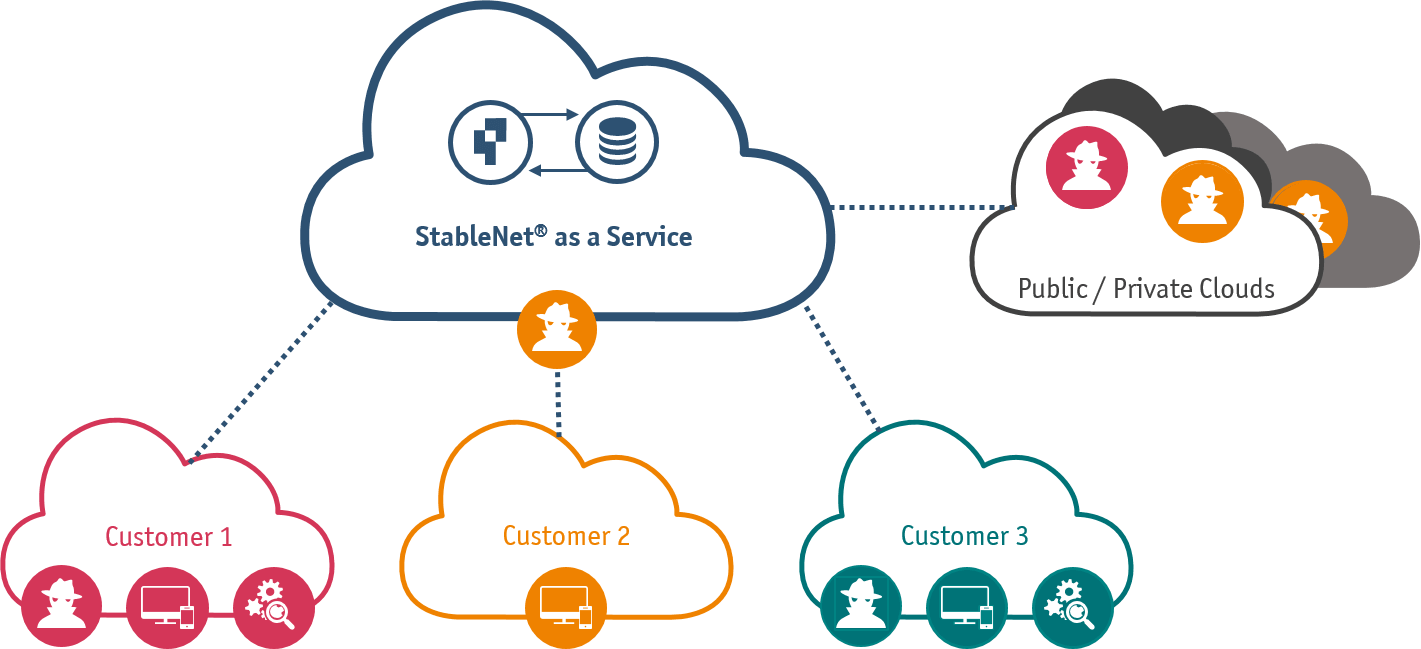 StableNet® as a Service (SaaS) is interesting for the following business cases:
(1) for service and network providers offering services to their customers to extend their portfolio with an adequate monitoring solution, and
(2) for end customers for whom a complete owned StableNet® installation is not reasonable.
Hosting the StableNet® Server in the cloud increases the economy of scales by possibly sharing hardware resources for different customers. The solution still offers full individuality due to completely customizable web portals.
Regarding the necessary hardware at the customer side, each of the customers using the StableNet® Cloud only needs to deploy an adequate number of StableNet® Agents. Especially for smaller enterprises the cost-effective Plug & Play StableNet® Embedded Agent (SNEA) is an interesting alternative as it offers high scalability and flexibility for a low total cost of ownership.
Key benefits of StableNet® as a Service
Outsource monitoring – Focus on your service, not on monitoring it!
With the possibility to use StableNet® run in a cloud environment and the flexible and ultra-scalable StableNet® Agents, especially smaller, non-IT companies can now use StableNet® "as a Service" with minimum necessary owned hardware requirements. Different levels of outsourcing are possible. Companies may decide to only outsource the monitoring infrastructure itself but take care of discoveries, backup, and reporting on their own. Another possibility would be to outsource all these services as well and have the cloud provider or any third partner take care of maintenance, configuration, monitoring, etc. Of course, also any hybrid approach partially outsourcing and partially self-managing can be realized and is actually a typical use case.
By using the possibility of StableNet® Monitoring out of the cloud, the monitoring costs can be significantly reduced. First of all, there are almost no initial setup costs for expensive monitoring hardware, servers, etc. In small setups, only a hand of, or even a single SNEA might be enough to gather the necessary data and to start the StableNet® Monitoring. Besides the initial expenditure, also the operational expenses can be drastically reduced. Depending on the level of outsourcing, there should not be any need for additional employees taking care of monitoring. Furthermore, especially when using SNEAs, there is almost no regular on-site maintenance of the monitoring system necessary.
Reduce costs, maximize revenue!
Different monitoring and management tasks – One solution!
The StableNet® OSS Solution consisting of the monitoring cloud and the local StableNet® Embedded Agents offers all flexibility and elasticity needed to face the rapid change of today's IT environments. The same setup and infrastructure can be used for different monitoring tasks, including the automated monitoring of cloud and network services and the automated monitoring of the local infrastructure, including Internet of Things. The entire power realized from the standalone StableNet® products can be revealed to check on vulnerabilities, policy violations, to integrate with other systems, and to support various vendor-specific devices and services. Furthermore, not only monitoring but also Fault Manage-ment, Performance Management and Configuration Management can be enabled without the need of any additional product.
The solution consisting of a central shared server and a possibly large number of distributed StableNet® Agents brings benefits not only for the end customers using StableNet® for monitoring their infrastructure but also for service providers offering StableNet® Monitoring as part of their portfolio. Both parties have better possibilities to handle the SLAs done between each other. Whereas service providers are usually in the need to prove the quality of their services to the customers, the customers are looking for a system to monitor the quality they actually get. The monitoring and reporting possibilities offered by StableNet® provide to both worlds neutral and objective information about SLA compliance.
Providers, prove your SLAs!
Customers, monitor yours!
What can you expect from StableNet® as a Service?
Learn how StableNet® as a Service can improve your network management – three selected examples are provided below.