StableNet® Boxed Solutions
StableNet® is a very flexible software for various application scenarios. It is usually installed as on-premise software or provided as Software as a Service (SaaS).
However, additionally there are certain boxed solutions augmenting the StableNet® solution.
StableNet® Boxed Solution: Mobile App
Network & services management at your fingertips
Available for iOS devices
We are further extending our Unified Network & Services Management solution StableNet®. Besides our regular Java and Web GUI, we offer a mobile app for iOS devices, which will make your life easier.
While developing the app, we considered several approaches, and a native app proved to be the best for providing the performance you can expect.
The app was designed keeping principles of usability engineering in mind, so you can get a grasp of your network status just as easily as you check your email.
StableNet® key features on your smartphone, tablet, and watch.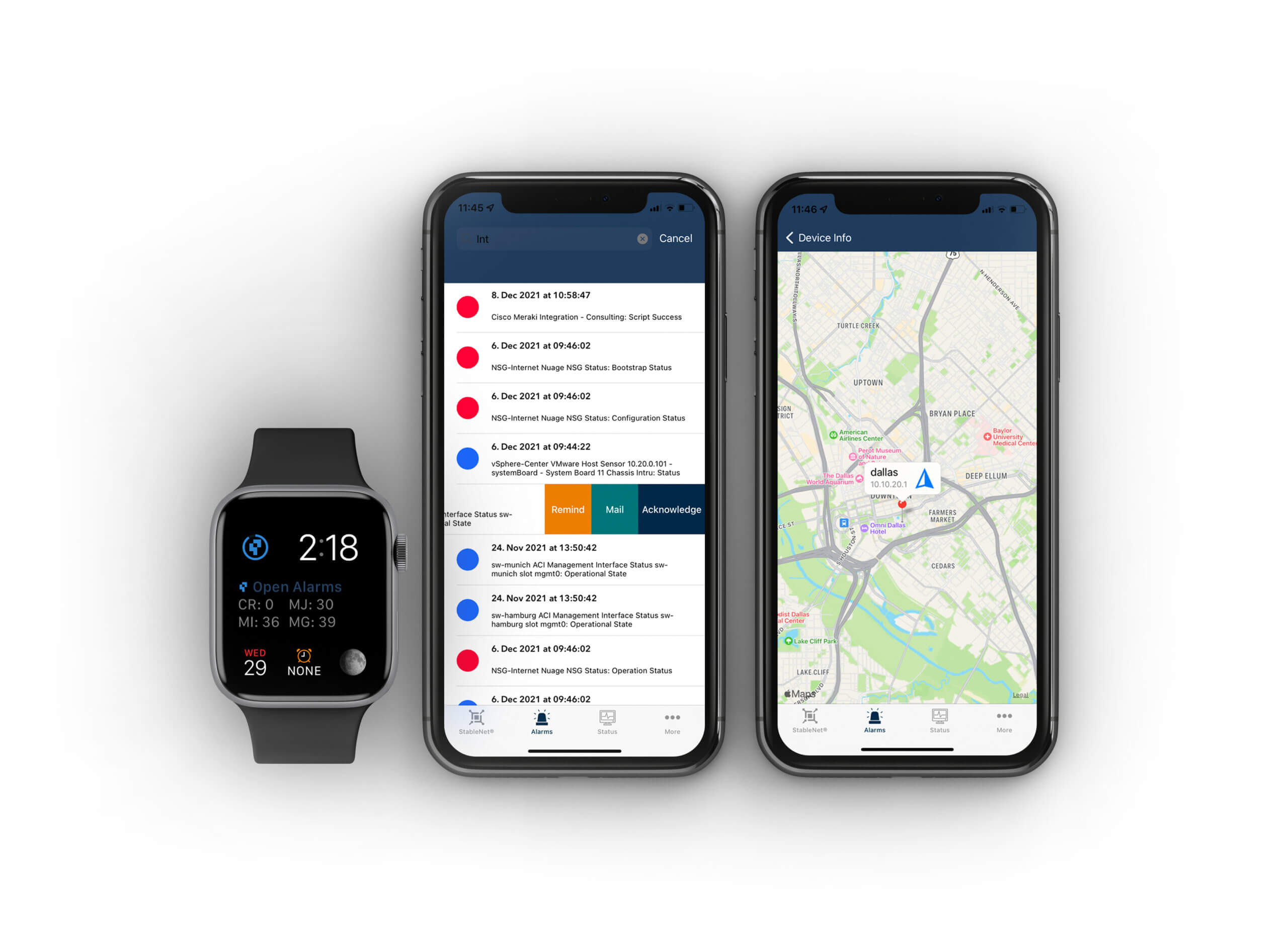 StableNet® in your pocket
Status & performance information
Reduced traffic & power usage
Alarm list, including filter options
Comment & acknowledge alarms
View root causes & symptoms
Access the geographical & logical location & neighborhood of a device
Check alarm states & severity levels
View Weather Maps & Analyzer Charts
StableNet® version 7.6.2 (or higher) is required
REST modules Reporting & Visualization (SNE07100), Inventory & Links (SNE07200) are required
StableNet® Boxed Solution: SNEA
Pre-configured & ready to deploy
With the StableNet® Embedded Agent (SNEA), we now offer all the powerful features the customers appreciate from the StableNet® Agent in a Plug & Play "black box" appliance.
The SNEA is shipped pre-configured and completely ready to deploy. Only Ethernet and power need to be connected.
Besides the use case of StableNet® monitoring out of the cloud, the StableNet® Embedded Agent is also an ideal enabler for other use cases.
One example could be to deploy a large number of SNEAs to conduct highly distributed measurements of a service from various geographical locations.
Another one could be detailed hop-by-hop monitoring by placing SNEAs at each hop of a certain connection.
StableNet® Telco and Enterprise are both supported.
Intel architecture (x64 Atom based)
Supports Windows 10, RedHat/CentOS 7.x
"Normal" StableNet® Agent and all Business Process Scripts supported
Dual Gigabit and Dual Band WiFi
Robust, FCC, CE certified
Different variants available
Please contact us for more information on the SNEA.
SNEAs with example hardware *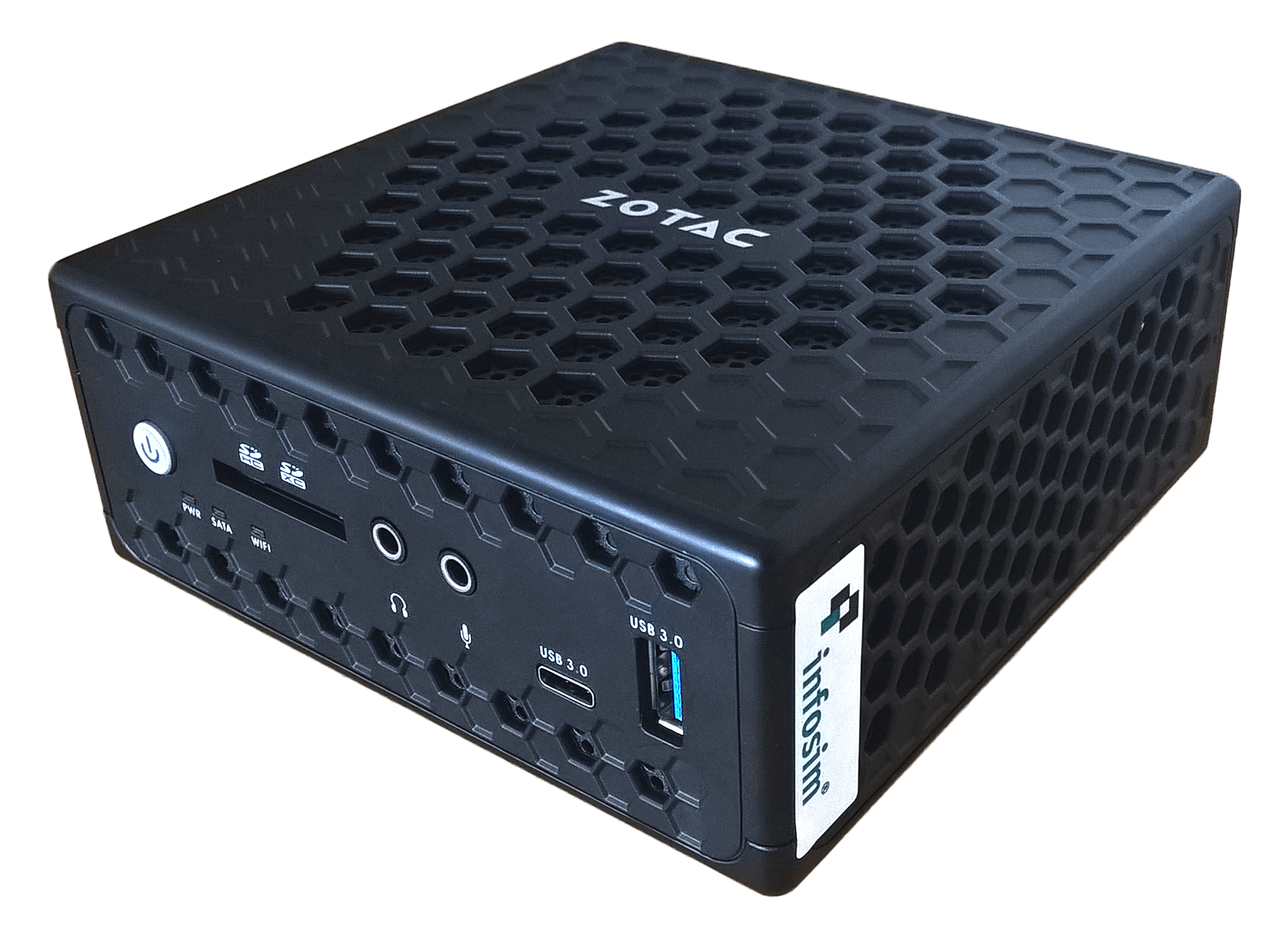 CPU: Intel N3450
Memory: 4 GB DDR3L
Storage: 32 GB M.2 SATA SSD
Networking: 2x LAN (10/100/1000Mbps), 802.11ac WiFi
USB: 1x USB 3.0 Type-C, 2x USB 3.0, 2x USB 2.0
Size: 127.8mm x 126.8mm x 56.8mm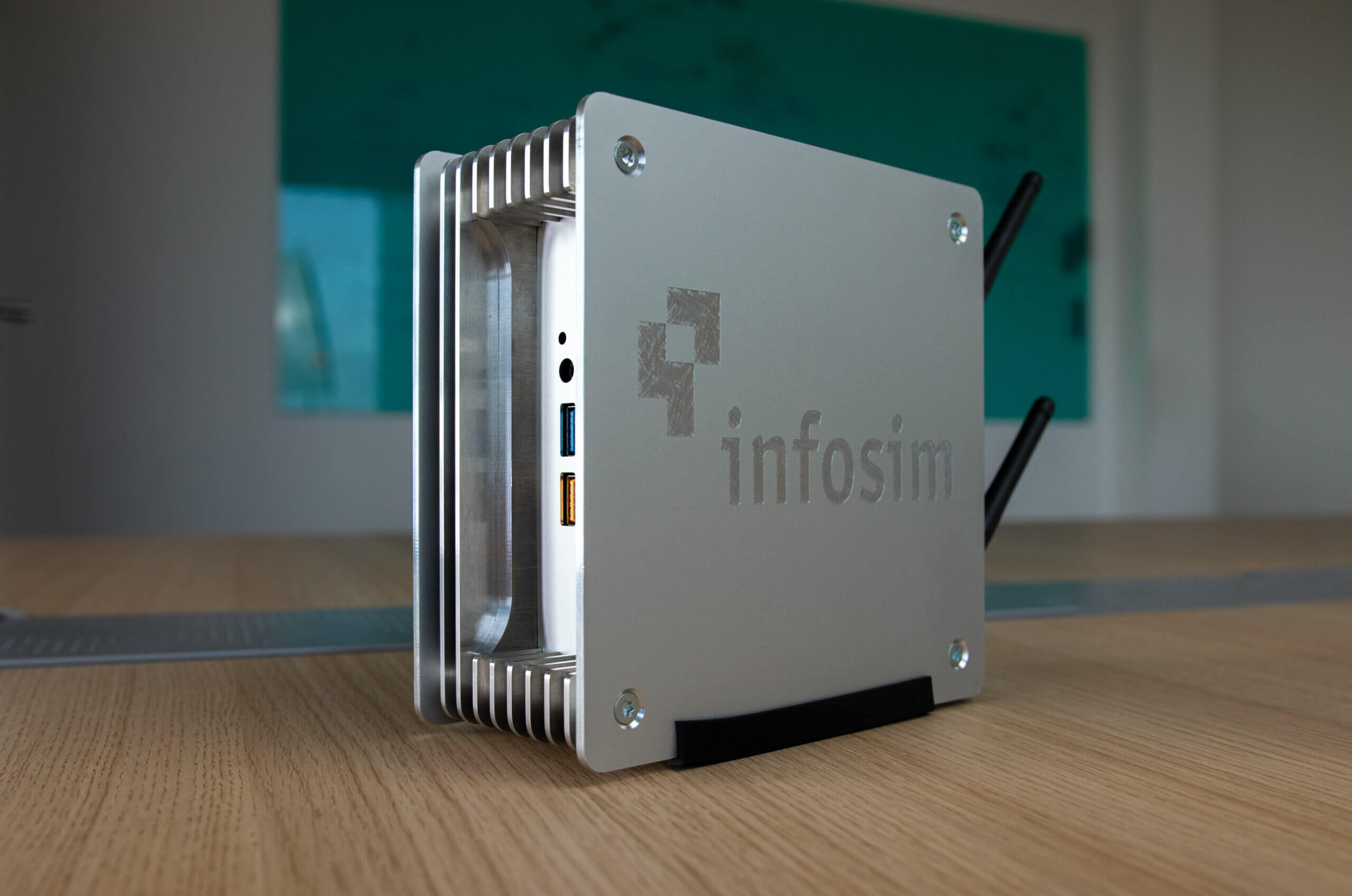 CPU: Intel J4005
Memory: 4 GB SO-DDR4
Storage: 120 GB SSD
Networking: 1/100/1000 Mbps LAN, WiFi + Bluetooth 5.0
USB: 4x USB 3.0, 2x HDMI 2.0a,
2x Antenna connections (4x with LTE Module), 1x mini-Toslink (digital audio)
Size: 155mm x 75mm x 157mm
* Configuration with other hardware is also possible.
initial setup costs (no need to buy expensive hardware)
space requirements ("on the rack", not "in the rack")
maintenance effort (no mechanical parts)
power requirements (powered over USB)
Typically more than 1000 measurements
More than 200 Mbit/s VoIP traffic with multimedia script
Availability of all Java business processes
Availability of all measurement types
StableNet® Embedded Agent
SNEA enabled, highly distributed measurements
Being distributed to different locations of the network, these boxes with the smallest foot print on the market can shed light into the darkness and reveal new information to the service provider that has not been present before.
StableNet® Embedded Agent Cloud Solution
Using the unified StableNet® OSS Solution­­ in a cloud-based­­ environment
StableNet® is a fully integrated 4 in 1 solution in a single product and data structure, which includes Configuration, Performance, and Fault Management, as well as Network and Service Discovery.
By combining the powerful StableNet® Server hosted in a cloud environment and the flexible and ultra-scalable StableNet® Agents, Infosim® now supports a new business case for monitoring out of the cloud.
StableNet® Boxed Solution: Appliance
StableNet® on ready-to-run systems platform
The StableNet® Appliance is a high-performance, pre-configured, security-hardened, hardware platform designed to support flexible deployment of StableNet®.
StableNet®-series appliances reduce total cost of ownership by simplifying deployment, consolidating network infrastructure, and providing an extensible platform that can scale with your organization.
Please contact us for more information on the StableNet® Appliance solution.
StableNet® Product Solutions
Network management at your fingertips!
StableNet® Telco
A unified Telco-grade solution providing Service Assurance, Service Fulfillment, Fault, Performance, automated Root Cause Analysis, Network Change & Configuration Management with open interfaces into your OSS environment.
StableNet® Enterprise
A unified management solution for IT Services, VoIP and Network Providers providing Fault, Performance, Root Cause Analysis, and Network Change & Configuration Management.
StableNet® as a Service
Software as a Service: On-demand application delivery – get the benefits of StableNet® without all of the up-front cost or ongoing complexity of maintenance.