(Mobile) Service assurance
Offer your customers an outstanding level of quality, performance and service
Service Assurance with StableNet®
StableNet® provides above-peer performance and scalability. From ground up, the suite is designed to be reliable and ease your deployment. A must for top-level goals as decreasing operating complexity and costs, or enabling rapid creation of new services and improving service quality. The use of open technologies and the offer of an industry redefining licensing model helps cutting costs of managing large networks.
Fault Management with Impact Management, and Root Cause Analysis with alarm correlation of approx. 90% data is refined before dispatch.
Performance measurement and data normalization to collect traffic data and performance KPIs from network elements and circuits.
Configuration Management combines highly automated service provisioning with resource management and a CMDB.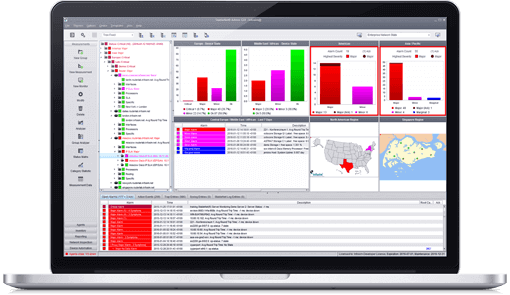 StableNet® enables network operators to automate End-to-End provisioning of their services assuring processes like measurements and monitoring.
Reporting: Real-Time & Long-Term
Flexibility to collect and report KPIs crucial to business and customers
Identifying and documenting the IT infrastructure performance and particular events on real-time basis
Historical reporting to classify and pinpoint long-term trends effectively
Fully customizable reporting to best meet specific requirements
Service-Level-Agreement (SLA) Reports
Documentation of the network operation delivery against contractual obligations
Designed to show performance at service layer (not as detailed as performance reports)
Usage Reports
Visualization of utilization, volume, and throughput with baselines, topN, and trends
Users may understand peak and off-peak loads better by going beyond monthly totals to provide timelines
Sizing the network correctly to meet actual demands
Quality-of-Service Reports
QoS reports help understand performance and usage per Class-of-Service (CoS)
Information vital for correct classification is also provided
Possibility to use them to fine-tune application traffic for best performance results
Mobile Service Assurance with StableNet®
StableNet® Telco provides integrated Service Assurance for 3GPP elements (BSC, MSC, GGSN, etc.) and the mobile backhaul. It enables wireless carriers to aggregate data from key GSM, UMTS, or Wimax interfaces. This provides a single pane-of-glass and a true End-to-End view.
3GPP (e.g 32.111 Corba based Fault Management, 32.104 Performance Management)
MTOSI (Multi-Technology Operations System Interface)
StableNet® Service Assurance Benefits
Reduce and/or eliminate penalties associated with contractual commitments to meet specified service levels
Ensure your customer's responsive and direct service availability, and boost customer satisfaction
Perform proactive planning to meet future business requirements, including workload volumes and necessary service level requirements
Understand the Quality-of-Service provided to end-users
Increase your revenue by cutting outages directly affecting business operations
Increase your ROI and IT assets by being able to balance workloads fully and hereby, obtain the highest level of component utilization while still meeting service level requirements

Service Assurance
Service Assurance & Service Fulfillment on a single platform.

Dynamic Rule Generation
DRG is like cruise control for your network rule set

Root Cause & Impact Analysis
Automate Root Cause Analysis and alarm processing
Ready for multi-vendor network management?