StableNet®
Automated Network & Service Management
With StableNet®, automate the management of even large, heterogeneous network infrastructures
StableNet® provides Discovery, Configuration, Fault and Performance Management and brings the fragmented pieces of your multi-technology and multi-vendor network infrastructure together under a single platform.
The automated network & services management approach has been successfully implemented in key industries like energy, finance, manufacturing, retail, telecommunications, and many more.
From Automated root cause to Zero touch provisioning, find out how StableNet® continues to be the industry leader for enterprise and telco network management.
What's new at StableNet®?
As a leading 4-in-1 Solution, StableNet® covers functions from the following four pillars: Discovery &
Inventory
Improve network efficiency
and capture your assets
for insights Network Configuration & Change
Reduce configuration errors with vendor independent automation Fault Management & Root Cause Analysis
Resolve network problems quickly by getting pinpointed to the root cause Performance &
Service
Continuously measure KPIs and monitor SLAs to stay in control
Key Benefits of StableNet®
Consolidation
StableNet® unifies the management of multiple vendor-specific network tools and technologies, along with firm-specific databases, into one GUI.
Scalability
The Automated Network & Service Management solution StableNet® delivers a flexible framework that is scalable to any sized network.
Customization
StableNet® provides an excellent out-of-the-box solution which can be further customized to accomodate individual requirements.
Ready for automated network management?
Automation is at the core of StableNet®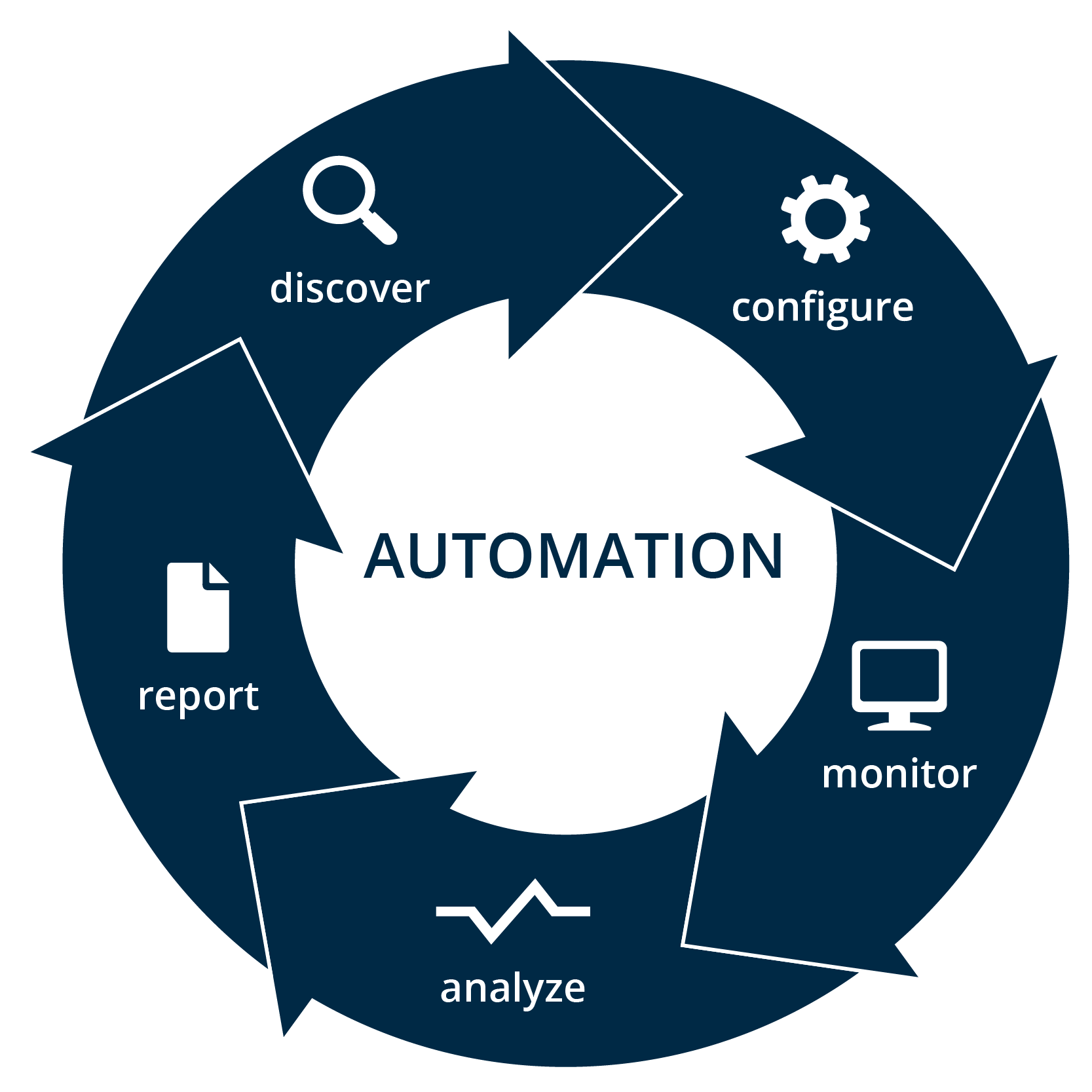 StableNet
®
delivers optimized automation workflows with immediate results, without the need for extensive upfront
programming investments.
With StableNet® you can save considerable time and, in conjunction with the consolidation of functionalities, significantly reduce costs (OPEX and CAPEX).
The network automation workflow is an iterative process which begins with repeated checks and discovery of your
inventory and moves through simplified configuration jobs, root cause analysis and continuous SLA monitoring, compliance tracking, and simplified and automated backups and reporting (with many steps along the way). While each network is unique, with StableNet® you can greatly simplify even the most customized tasks.
StableNet® in Action: Popular Releases
Available Product Solutions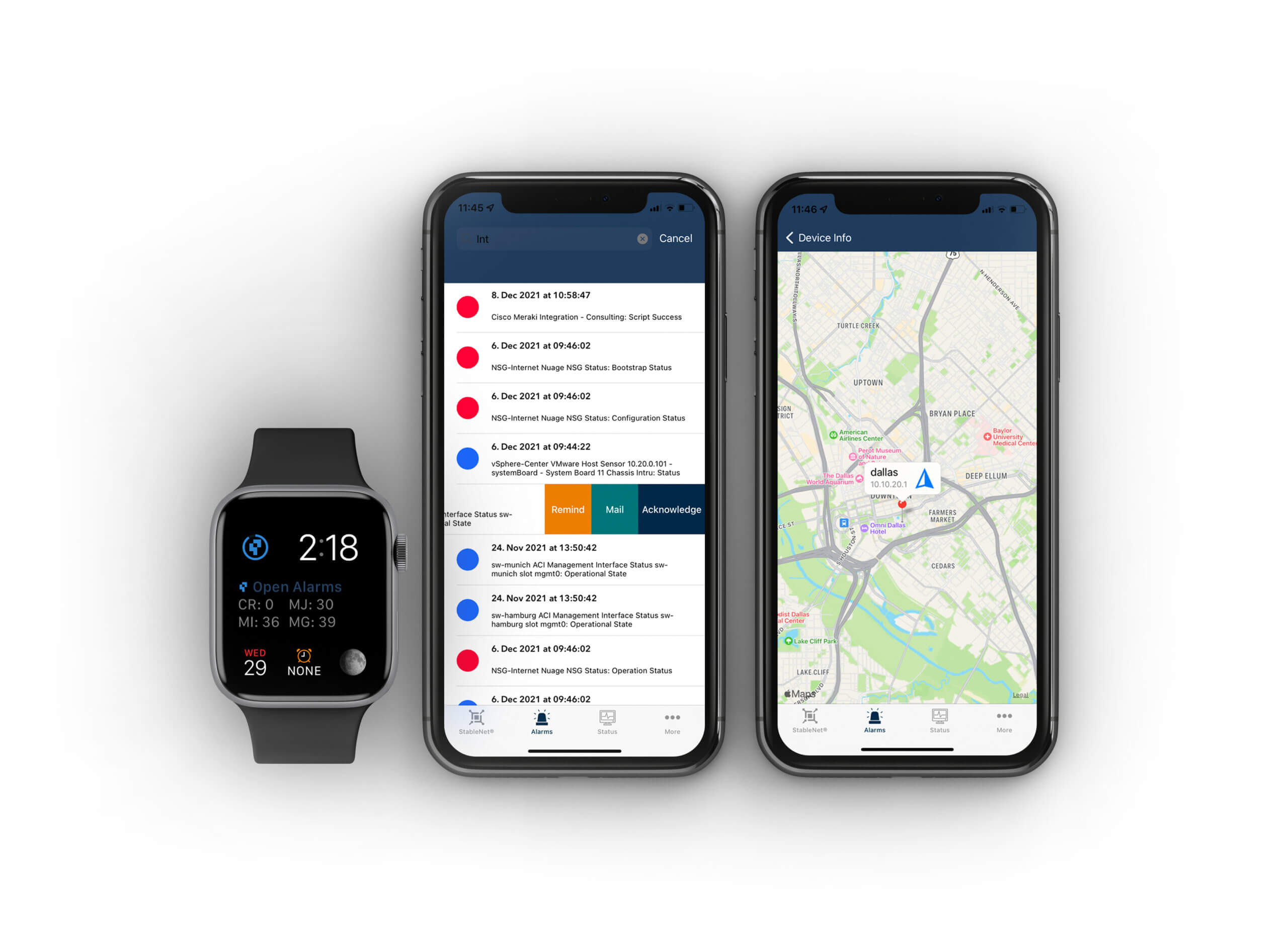 Vendor agnostic NMS in your pocket
Status & performance information
Reduced traffic & power usage
What our partners and customers say about us
"Our fiber optic network is at the heart of 1&1 Versatel – on this basis, we implement high-performance networking solutions for our customers. With the Infosim® product StableNet® , we are introducing a state-of-the-art monitoring system with which we can further optimize our network and service operations and continuously improve the quality of our services."
"Standardization and automation is a key factor for the IT infrastructure team at B. Braun to provide a stable global IT infrastructure that meets business requirements. Stablenet® offers us a solution that meets our requirements for managing our global network. With Infosim® we have a customer-oriented partner who supports us in realizing our goals."
"With StableNet® we see an opportunity to implement a network management solution that delivers a high degree of automation, simplification and is able to manage a technologically diverse network infrastructure."
"With the strategic partnership between Axians and Infosim®, we are able to extend our broad portfolio in the area of network infrastructure automation and thus reduce complexity for network operations, even in multi-vendor environments."
Ready for automated network management?