StableNet® Telco is a third-generation highly automated network management system. The key differentiation of StableNet® compared to other legacy-type Operational Support Systems (OSS) is that StableNet® is a unified OSS system with three integrated functionalities that focus on Configuration, Fault, and Performance Management, with automated Root Cause Analysis (RCA). StableNet® Telco can be deployed on a multi-tenanted or dedicated platform and can be operated in a highly dynamic flex-compute environment.
What can you expect from StableNet® Telco?
Selected examples of Automated Network & Service Management.
Combining network, device, and service information
Unified SDN, NFV & Cloud Management
Enhanced Path & Service Analysis
Automated Service Assurance and Fulfillment
Ready to start your hands-on StableNet® experience?
StableNet® extends the boundaries of legacy network silo-based management by integrating Service Assurance & Service Fulfillment on a single platform.
Fault Management with Impact Management, and Root Cause Analysis with alarm correlation of approx. 90% data is refined before dispatch.
Performance measurement and data normalization to collect traffic data and performance KPIs from network elements and circuits.
Configuration Management combines highly automated service provisioning with resource management and a CMDB.
StableNet® is made with third-generation architecture. This new-age network data management provides above-peer performance and scalability. From ground up, the suite is designed to be reliable and ease your deployment. A must for top-level goals as decreasing operating complexity and costs, or enabling rapid creation of new services and improving service quality. The use of open technologies and the offer of an industry redefining licensing model helps cutting costs of managing large networks.
Understand the Quality-of-Service provided to end-users
Increase your revenue by cutting outages directly affecting business operations
Ensure your customer's responsive and direct service availability, and boost customer satisfaction
Increase your ROI and IT assets by being able to balance workloads fully and hereby, obtain the highest level of component utilization while still meeting service level requirements
Perform proactive planning to meet future business requirements, including workload volumes and necessary service level requirements
Reduce and/or eliminate penalties associated with contractual commitments to meet specified service levels
StableNet® enables network operators to automate End-to-End provisioning of their services assuring processes like measurements and monitoring.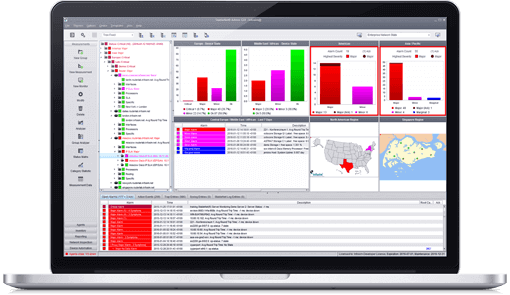 Reporting: Real-Time & Long-Term
Flexibility to collect and report KPIs crucial to business and customers
Identifying and documenting the IT infrastructure performance and particular events on real-time basis
Historical reporting to classify and pinpoint long-term trends effectively
Fully customizable reporting to best meet specific requirements
Service-Level-Agreement (SLA) Reports
Documentation of the network operation delivery against contractual obligations
Designed to show performance at service layer (not as detailed as performance reports)
Usage Reports
Visualization of utilization, volume, and throughput with baselines, topN, and trends
Users may understand peak and off-peak loads better by going beyond monthly totals to provide timelines
Sizing the network correctly to meet actual demands
Quality-of-Service Reports
QoS reports help understand performance and usage per Class-of-Service (CoS)
Information vital for correct classification is also provided
Possibility to use them to fine-tune application traffic for best performance results
FTTx (Fiber To The Home/Curb/Building/Node) is rapidly becoming the standard solution for providing cost-effective broadband services beyond DSL speeds. G(E)PON is also a good fit for mobile backhaul bandwidth requirements driven by HSDPA+, LTE, or Wimax, as it is a much lower-cost technology than SONET or dedicated Ethernet.
StableNet® Telco is designed to help service providers accelerate their FTTx setups.
StableNet® Telco has native support for FTTx Deep Fiber with mixed Carrier Ethernet and MPLS cores. Whether you use FTTx for providing triple-play services to residential customers, or as a RAN for LTE, StableNet® Telco always provides a comprehensive and easy-to-use solution for End-to-End Service Assurance.
Voice (VoIP), video (IPTV) and high-speed internet services drive the demand for higher bandwidth and elaborate QoS/CoS installations. PON (Passive Optical Networking) solutions are being widely deployed to provide broadband services to residential users, enterprises, and as scalable solution for mobile backhaul.
StableNet® Telco helps CSPs (Communication Services Providers) secure and grow their revenue streams by meeting these needs.
StableNet® Telco helps with rapid deployment and services over FTTx solutions ensuring stable revenue streams.
Infosim® installed StableNet® Telco to comprehensively manage the entire active network, the DWDM transport and all server, storage, database, and network appliances. A fault-tolerant system was installed in the central location with StableNet® Agents in each of the 11 common offices for distributed management.
StableNet® Telco provides integrated Service Assurance for 3GPP elements (BSC, MSC, GGSN, etc.) and the mobile backhaul. It enables wireless carriers to aggregate data from key GSM, UMTS, or Wimax interfaces. This provides a single pane-of-glass and a true End-to-End view.
How it works:
3GPP (e.g 32.111 Corba based Fault Management, 32.104 Performance Management)
MTOSI (Multi-Technology Operations System Interface)
StableNet® Telco provides End-to-End Service Assurance. As a single integrated solution, it covers the mobile elements (such as the BTS) and the RAN (such as a MEF E-Line).
StableNet® management for MPLS, MetroE, and Carrier Ethernet provides visibility into Layer 2 and Layer 3 MPLS and VPLS deployments. Leveraging topology and LSP path information collected via SNMP, StableNet® can manage MPLS/VPLS deployments, including MP-iBGP and End-to-End path monitoring.
StableNet® has native support for common edge devices such as Cisco®, Juniper®, Redback®, and others without the need for manual intervention or programming of correlation rules.
Supported Technologies
StableNet® supports the following technologies:
Layer 2 based on draft-kompella-l2ppvpn-version
Layer 2 based on Martini
Layer 3 based on RFC 2547bis (VRFs)
BGP VPLS based on Internet draft draft-ietf-ppvpn-vpls-bgp
LDP VPLS based on draft draft-ietf-l2vpn-vpls-ldp
802.1ah Provider Backbone Bridging
QinQ Provider Bridging (802.1ad)
Key Features
VPN Auto Discovery
Network Visualization
Root Cause & Impact Analysis
Multi-Vendor Support
Product Advantages
Autodetects Layer 2 and Layer 3 VPNs at PE routers and the LSPs across the LSRs; automatically discovers OSFP, ISIS, MP-iBGP, and VLAN
Graphically displays VPN topologies per customer and/or per technology
Tracks the cause of a VPN End-to-End failure down to the LSR where the problem occurs
Works with a number of different hardware vendors including Cisco®, Juniper®, Redback®, Huawei, and others
Product Benefits
Auto-populate your CMBD with the actually deployed VPNs from our routers; cut support time to a minimum
See the connectivity and status of elements in a graphical topology display
Ability to associated VPNs with customers to see customer and service impact to priorities NOC activities
Improved scalability and flexibility in cross-domain and multi-vendor deployments
Elaborate datacenter management is all about automation, efficiency, and reduction of churns. Automation is the key to achieve these goals. It delivers cost-efficiency, quality, and compliance even in the most complex environments.
Customer Benefits:
Remote management across geographies
Manage services, not just servers
Support proactive management (automated response to events)
Automate system provisioning
Automate system operations tasks
Simplify distributed systems management
Integrated End-to-End management framework across HW, OS, application, and network
Focus on business services management
Simplify your datacenter administration with a centralized automation solution: StableNet®.
Planning
StableNet® discovers network elements and their configurations; then provides accurate information on capacity and trends.
Provisioning
StableNet® automates provisioning of services and configuration of elements, enabling zero-touch flow-through provisioning.
Monitoring
StableNet® helps detecting problems and facilitates alerts and SLA compliance monitoring.
Measurement
StableNet® measures relevant KPIs for internal planning purposes, and for customer-facing reporting.
Cloud services face multiple risks, which do require a stringent and holistic services management. The typical cloud computing service is composed of multiple key-building blocks which do all need to perform and interwork as a chain of specific services, to gain and maintain customer acceptance – and thus needs to be monitored and managed in a holistic way.
If a cloud service reliability and quality is not accepted or trusted by a user, a competitive service could be just a mouse click away – and this business is lost. This does apply to individual users and even more to corporate customers, which heavily depend on services quality.
Automate your cloud and IT infrastructure management with automated discovery, automated best practices monitoring and reporting
Gain the real-time IT-/cloud services systems status and performance visibility you require to show and demonstrate as the most efficient IT operations team and IT management
Gain your holistic cloud IT services status from LAN, WAN, load balancers, firewalls, IT server, up to Web servers, IT application servers installations, and E2E synthetic transactions monitors by one vendor-agnostic management system
Show the current services quality in near real-time via dashboards to operations and customers
Document the provided services quality to management and to your business customers
Gain this cloud IT services visibility by an already integrated management solution, running on one consistent services data model instead of trying to integrate a zoo of multi-tier and multi-silo management tools over and over again
Have a solution in place to indicate upcoming bottlenecks and get solid data, where to do right-size investments in time in the infrastructure – before your growing business will hit back on your operations
(re)Gain control of your Cloud Services – Managing the challenges of monitoring, analysis and reporting
If a problem arises, can my organization identify it quickly and fix it in acceptable time?
Can they break the problem down from a service to a subservice, to a region and a causing device in an automated and efficient way – or do they usually start a big search activity?
Do they have tools in place to quickly auto-generate trouble-tickets to the right maintenance staff in charge?
Will you as a manager be able to quickly provide feedback to company management and customers?
About the source of the problem?
Do you know if the team is already working on it?
When will the problem probably be fixed and the service up again?
And last but not least be able to demonstrate that you have everything under control?
When your business is successfully growing and putting load on the IT infrastructure,
will you get advanced information where bottlenecks are building up,
where investments are required to prevent services degradation,
and get indications where to apply your right-sized investments?
How much does 1/2 hour downtime cost your organization in revenue?
To minimize such costs:
Have a solution in place which pinpoints the problem and the impact by a fully automated Root Cause Analysis
Have a solution in place which triggers the creation of a trouble-ticket, directly indicating the causing IT hotspot
Have a fully integrated real-time troubleshooting solution in place to quickly access the causing IT system or network device
Integrate your existing business process monitoring scripts directly with StableNet® in the most easy and efficient way to include BPM in your overall IT services views.
OSS and especially automated network & service management are always a challenge and strategic investment for any service provider. Infosim® offers excellent value by supporting cross-vendor, cross-technology, cross-silo networks and services management. This helps any service provider to improve their competitiveness. In turn, the customers benefit from reliable and fast service delivery they do expect.
Telemanagement Forum (TMF) is a non-profit global industry organization providing leadership, strategic guidance, and practical solutions to improve the management and operation of communications services. Infosim® is a long years active TM Forum member, winning multiple TMF Catalyst awards. Guidelines and standards published by TM Forum facilitate the integration and interoperability of OSS/BSS solutions.
StableNet® is designed on the principles and frameworks of the TM Forum:
The TMF Business Process Framework (eTOM) team as members.
The TMF Frameworx program (formerly NGOSS), as a co-lead of the TMF Information Framework (SID), StableNet® Telco aligns with both eTOM, as well as with ITIL for a granular process mapping of the IT operations aspects of a service providers' End-to-End service delivery model.
StableNet® Telco aligns with eTOM to TMF Frameworx through its unified network and services abstraction model. This unified abstraction model provides the required foundation for the identification of all objects to be managed. All manageable objects correspond to TMF Business Process Framework (eTOM) to support resource management, operations and service management, and CRM processes.
As an automated service & management OSS solution, StableNet® integrates well in entire OSS/BSS environment, seamlessly including new management areas like SDN/NFV and Industrial IoT.
Ready to start your hands-on StableNet® experience?