Automated Network and Service Management for Complex Networks: Axians and Infosim® with joint platform strategy for German market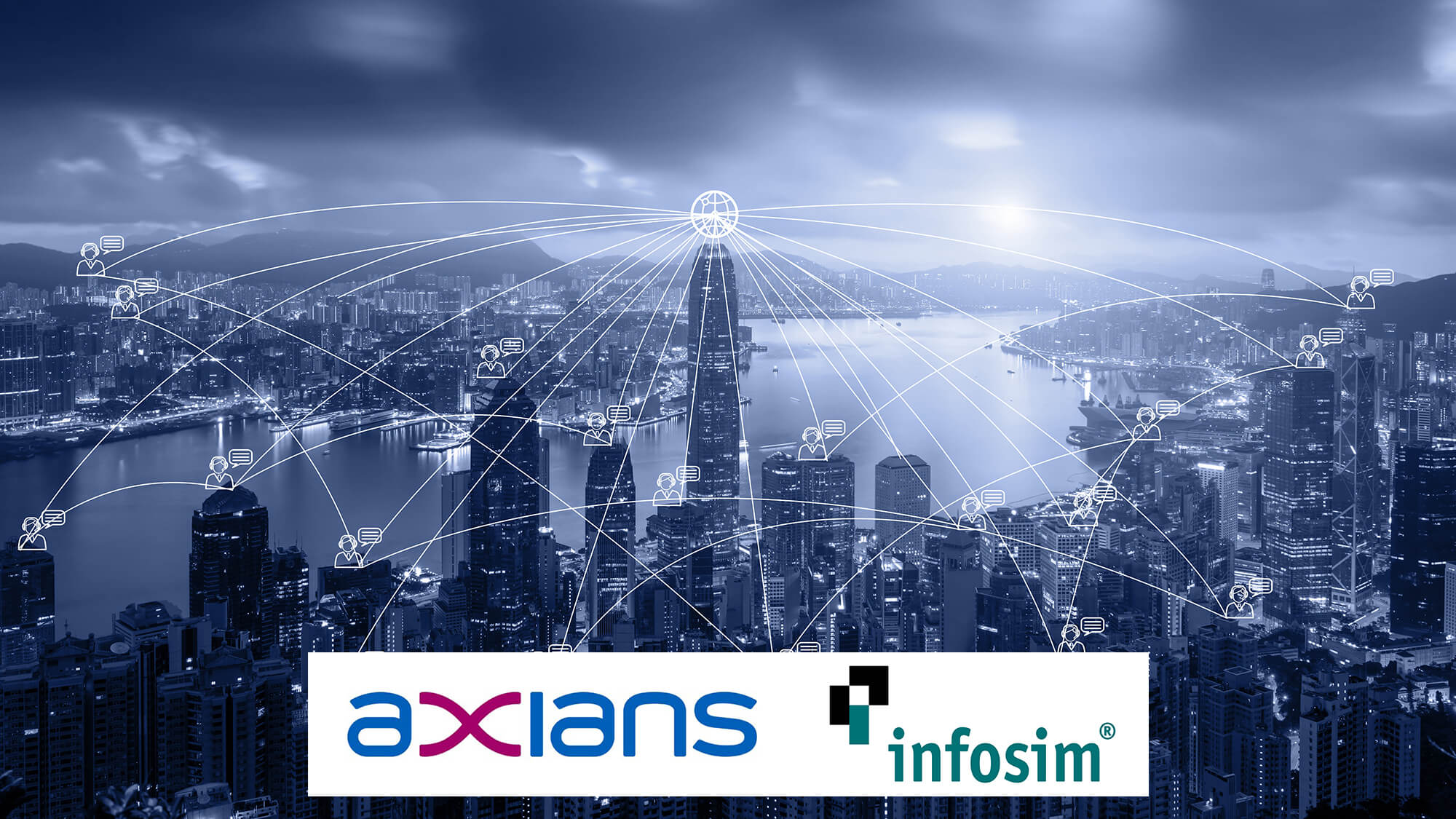 For more Information visit our StableNet® Website
"With the strategic partnership between Axians and Infosim®, we are able to extend our broad portfolio in the area of network infrastructure automation and thus reduce complexity for network operations, even in multi-vendor environments."
"We are pleased to have gained a powerful partner in Axians, with whom we can address the most diverse target markets in Germany. In addition, we are counting on Axians' high level of expertise in managed services to generate growth for both sides in this segment as well. We are looking forward to an intensive and long-term cooperation."
Würzburg/Austin/Singapur

– August 8th, 2021

Axians and Infosim® have joined forces as strategic partners to address the challenges of managing and automating large network infrastructures for carriers and service providers as well as municipal utilities and enterprise customers in Germany.
As part of the cooperation, Axians will integrate Infosim®'s products, expanding its portfolio with provisioning solutions for carrier-grade monitoring as well as the automation of processes in complex networks.
At the center of the joint strategy is StableNet®. A vendor- and technology-independent network and service management platform, StableNet® helps carriers, service providers, government agencies, enterprises and educational institutions worldwide ensure that their large networks are easily managed and maintained from a single graphical user interface (GUI). VINCI Energies' large network also creates synergies in the industrial, smart city, and IoT sectors.
Network infrastructures are in a state of constant change and ongoing innovation. Data silos and multi-vendor environments are now the rule rather than the exception, complicating network overview, management, and automation across different vendors and technologies. At the same time, IT departments lack the skilled staff to optimally configure all components, continuously innovate and keep costs in check.
Axians and Infosim® are addressing these challenges through the integration of StableNet®. The goal is an effective, easy-to-use platform that combines discovery & inventory, fault, performance and configuration management in one data structure and enables unified management within a single, holistic management platform.
StableNet® offers a framework that scales to any size network, even those with hundreds of thousands of endpoints, and supports diverse technological infrastructures from telemetry to legacy to NFV and SDN.
As a result, Axians and Infosim® are working together to ensure that enterprises achieve rapid growth as well as the ability to handle connections with an ever-growing number of IoT devices. The VINICI Energies ecosystem creates special added value for companies looking to benefit from a high level of expertise in managed services, IoT and Industrie 4.0 – capabilities that can be incorporated into the further development of the platform.

ABOUT Infosim®
Infosim® is a leading provider of automated Service Fulfillment and Service Assurance solutions for Telcos, ISPs, Managed Service Providers, and Corporations. Since 2003, Infosim® has been developing and enhancing StableNet® for its Telco and Enterprise customers. Infosim® is privately held with offices in Germany (Wuerzburg – Headquarters), USA (Austin, TX), and Singapore. Infosim® takes pride in the engineering excellence of its high quality and high performance products, made possible by its team of highly-skilled and committed employees. All products are available for a trial period and professional services for proof of concept (POC) can be provided upon request.
ABOUT StableNet®
Infosim® develops and markets StableNet®, the leading unified network and services management platform with a 4-in-1 solution that combines Inventory, Configuration, Fault, and Performance Management. It is available in two versions: Telco (for Telecom Operators and ISPs) and Enterprise (for IT and Managed Service Providers). Given the many operational and technical challenges of managing distributed and mission-critical IT infrastructures, StableNet® is the vendor-independent solution in today's multi-vendor environment.
Axians in Germany
Axians in Germany is part of Vinci Energies' global brand network for ICT solutions. With its holistic ICT portfolio, the group supports companies, local authorities, public-sector bodies, carriers and service providers in modernizing their digital infrastructures and solutions. In four business units IT & Managed Services, Business Applications & Data Analytics, Telecom Infrastructures and Public Software, consultants, developers, and technicians improve the lives of people through cloud and data centre infrastructures, cyber security, enterprise and broadband networks, IoT solutions, managed services and leading software for waste management, bulk goods industry, technical services and public administration solutions.
2020: 511 million euro turnover // 1.900 employees // 28 cities
The following companies belong to the group: Axians Digital Acceleration // Axians eWaste // Axians GA Netztechnik // Axians IKVS // Axians Industrial Applications & Services // Axians Infoma // Axians Lynx // Axians IT Security // Axians Cloud & IT-Automation // Axians NEO Solutions & Technology // Axians Networks & Solutions // Axians Public Consulting // Axians Athos // CHB Elektro & Fernmeldebau // OFM Communications // OFM Netzwerk & Systemtechnik // VINCI Energies Deutschland ICT
www.axians.de
About Axians 
Axians supports its customers — private-sector companies, public-sector entities, operators and service providers — in their infrastructures and digital solutions development. 
To this end, Axians offers a comprehensive range of ICT solutions and services spanning business applications and data analytics, enterprise networks and digital workspaces, datacenters and cloud services, telecommunications infrastructure and cybersecurity. Axians's specialized consulting, design, integration and service teams develop bespoke digital transformation solutions that contribute to successful business outcomes for its customers. Axians is a VINCI Energies brand.
2020: Revenue of €2.6 billion // 12,000 employees // 25 countries
www.axians.com
About VINCI Energies

In a world undergoing constant change, VINCI Energies focuses on connections, performance, energy efficiency and data to fast-track the rollout of new technologies and support two major changes: the digital transformation and the energy transition. With their strong regional roots, agile and innovative, VINCI Energies' business units boost the reliability, safety, sustainability and efficiency of energy, transport and communication infrastructure, factories, buildings and information systems.
2020: €13.7 billion revenue // 83,800 employees // 1,800 business units // 55 countries
www.vinci-energies.com
Ready for multi-vendor network management?