StableNet® Branding Relaunch: Lifting the curtain!

StableNet® receives a year-end brand makeover!

Since the first release of StableNet® in 2003, Infosim®´s successful automated network and service management platform has come a long way. With fresh new design elements, a new tagline and an all new logo, StableNet® is telling its own story by visually communicating its unique identity in the industry.
NEW Tagline: "Automated Network & Service Management"!
One of the most profound shifts we have seen in the NetOps space is a strong shift in demand towards automated processes, machine learning and artificial intelligence (AIOps). The StableNet platform is finding a huge up-tick in success and popularity because of its ability to excel in this area. With one code base and an ability to integrate business-wide databases, automation in the network environment has become one of its biggest unique selling points. Automated processes not only lead to significant savings (CAPEX and OPEX), but quicker MTTR and a more reliable network (not to mention improved customer satisfaction).
By changing the tagline from "Unified Network & Services Management" to "Automated Network & Service Management", we want to clearly communicate this distinctive value proposition.
NEW Logo and color scheme:
For the first time StableNet®´s identity is visually represented! The dark blue tone of the new design reflects the reliability, quality and progressiveness you can expect from the StableNet® Solution.
By coloring the square in the middle of the logo in the distinctive turquoise of the Infosim® brand, the connection to the company is highlighted. Furthermore, the small square is surrounded by brackets with four arrows symbolizing the "Four Pillars" of StableNet®, all of which come together in an automated, unified solution.
If you want to learn more about the Four Pillars please click here. https://www.infosim.net/stablenet/stablenet-platform


Get further information and collateral:

If you have any questions concerning the new branding or if you are in need of informational material please don´t hesitate to contact marketinghq@infosim.net!
For our Partners: Branding collateral is available on the StableNet® Community Portal. (https://portal.infosim.net/)
Ready for multi-vendor network management?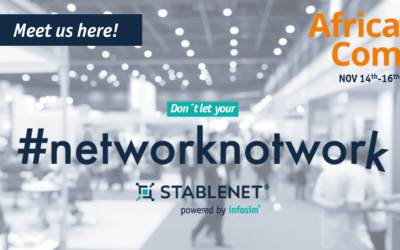 November 14th-16th 2023
Infosim® joins the AfricaCom in Cape Town! Visit our booth!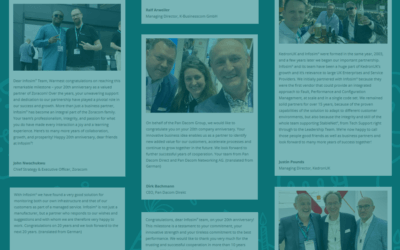 Celebrating two decades of success, we at Infosim® are excited to share our partner's & customer's well-wishes and experiences with you here.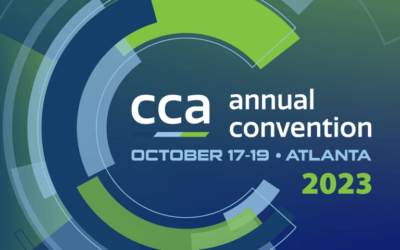 October 17th – 19th, 2023
Are you planning to go to the CCA Annual Convention in Atlanta? We will definitely be there! Come join us at booth #206 for a little chat.