IoT Blog Series #1: The place of Infosim® within IoT
Nov 29, 2018 | Blog, IoT, Network Management, Partner
Welcome to the first article of our Infosim® IoT blog series! Over the next few months we will be taking a "deep dive" into one of the hottest (and most misunderstood) topics in the IT world today; the Internet of Things (IoT). In our series we will be focusing on a few different areas within the larger IoT space.
The Infosim® place within IoT and hot new projects we are working on
Secure Device Onboarding (SDO) within IoT
The future of IoT as we see it
In our first blog, let's look at how StableNet® fits into the overall structure of IoT.
In general, IoT systems can be thought of as being constructed with a few core functional "blocks".
An IoT system is based on devices that provide sensing, actuation, control, and monitoring activities. IoT devices can exchange data with other connected devices and applications. Or they can collect data from other devices and process the data either locally or send the data to centralized servers or cloud-based application back-ends for processing the data, or perform some tasks locally and other tasks within IoT infrastructure, based on temporal and space constraints (i.e. memory, processing capabilities, communication latencies, speeds, and deadlines).
An IoT device may consist of several interfaces for communication to other devices, both wired and wireless. These include:
I/O interfaces for sensors
Interfaces for Internet connectivity
Memory and storage interfaces
Audio/video interfaces
IoT devices can also be of varied types, for instance, wearable sensors, smart watches, LED lights, automobiles, and industrial machines. Almost all IoT devices generate data in some form of the other which, when processed by data analytics systems, generate leads to useful information to guide further actions locally or remotely. For instance, sensor data generated by a StableNet® Agent can help determine if a public safety agency is able to upload their wearable device data to the cloud for storage (more on this is our next blog!).
The communication block performs the communication between devices and remote servers. IoT communication protocols generally work in data link layer, network layer, transport layer, and application layer.
An IoT system serves various types of functions, such as services for device modeling, device control, data publishing, data analytics, and device discovery.
The management block provides different functions to govern an IoT system to seek the underlying governance of IoT system.
The security functional block secures the IoT system by providing functions, such as authentication, authorization, privacy, message integrity, content integrity, and data security
The application layer is the most important in terms of users as it acts as an interface that provides necessary modules to control and monitor various aspects of the IoT system. Applications allow users to visualize and analyze the system status at present stage of action, sometimes prediction of futuristic prospects.
As a unified network and services management solution, StableNet® addresses the services, management, security, and (in some cases) the application functions as described above.
This is done by identifying and inventorying IoT assets across all networks and providing visualizations of network architectures. It also helps secure and enable management and support of connected IoT devices. StableNet® uses open interfaces to integrate with diverse network switch, controller, and orchestration platforms and systems. Organizations can set up and manage mixed networks, systems, and applications using SNMP, XML, SSH, Telnet, WMI, REST, VMware,* JMX/JMS, and RPC.
Below you can see how StableNet® ties into the various IoT blocks: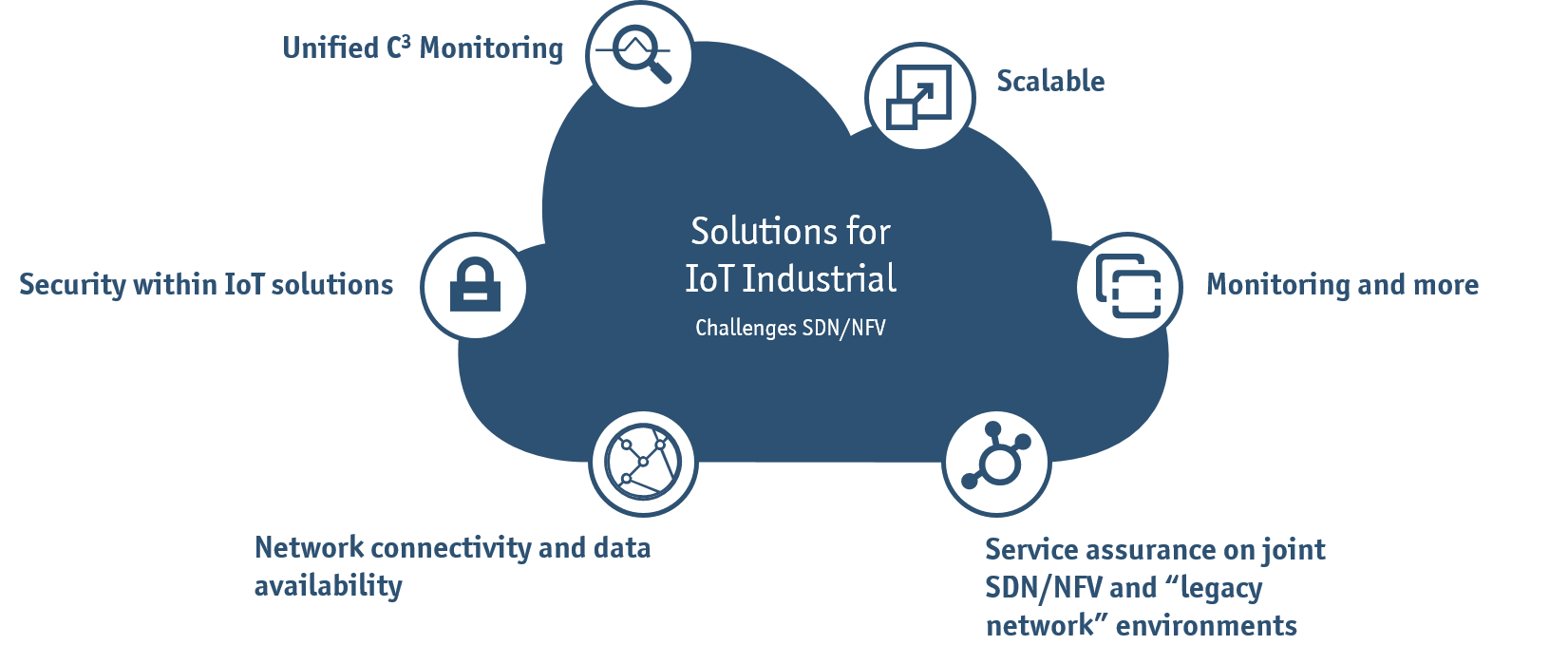 As we always have in our more than 15 years delivering StableNet®, Infosim® seeks out valuable partnerships in order to create a "whole is greater than the sum of parts" solution for customers. In the IoT space we have been very pleased to be a partner with Intel® since 2016.
Below is a history of the partnership between Intel® and Infosim®
2015
First meeting with Intel® at TM Forum Live! in Nice about SA and CM on SDN/NFV
2016
Infosim® wins best new Catalyst Award "Smart Industrial Manufacturing: Robots as a Service" at TM Forum Live!
Infosim® joins Intel® Network Builders
StableNet® IoT GW pilot test – "works out-of-box"
2017
StableNet® POC on SDN+IoT with Intel® – "available product"
Infosim® joins Intel® IoT Group
TM Forum Live!: SN IoT+SDN/NFV demo at Intel® booth, Infosim® wins catalyst 2nd time "Logical Factory: Virtualizing Manufacturing for Agility"
Solution Briefs on StableNet®/Intel® IoT GW and SDN/NFV
Intel® video clip on StableNet®/Intel® solution
Joint solution presentations at Industrial IoT conferences
2018
Working with Infosim® and Intel® Eco System partners on Industrial IoT and solutions for key clients
Infosim® wins "Smart Industrial Manufacturing" Catalyst Award at TM Forum Digital Transformation World
Infosim® wins Testbed Award on "Secure Device Provisioning – Intel and Arm Devices" at the IoT Solutions Congress in Barcelona
Infosim® also regularly participates in industry groups and collaboration events, such as the TM Forum, ZT-TSM Industry Initiative by Deutsche Telekom, Intel® IoT Group.
Kevin Ashton, the man who coined the term "Internet of Things", recently spoke at London's ExCeL expo centre on November 13th. In his speech he talked about how "sensors are only useful if you put them into a network." We at Infosim® would agree with that and take it one step further to say that "networks are only viable if they can be secured and managed". Therefore, a unified solution such as StableNet® is not only necessary for traditional network management, it is also vital for IoT systems.