Do you still pay for a lot of parallel systems to manage your network and services?
Say hello to StableNet®, the leading unified network & services management solution
The times of the Zoo-of-Management applications are finally over!
Get rid of the zoo with StableNet®
Stay on top of your network!
Consolidation
One tool for lots of use cases
StableNet® consolidates the zoo-of-management tools in one product for consistent and simple data handling.
Automation
One glance for thousands of tasks
StableNet® automates repetitive manual tasks, so you save time for important issues.
Scalability
One spot for millions of devices
StableNet® scales with your IT infrastructure such as complex IoT environments in a cost-efficient way.
Customization
One tool for your individual needs
StableNet® can be customized to deal with your individual needs.
StableNet® – unified network & services management solution
A central management and orchestration system
Cross vendor
StableNet® is supporting many different vendors (e.g. Cisco, Huawei, Juniper).
Cross silo
As a single-pane-of-glass solution, StableNet® provides performance, fault, and configuration management on a unified data platform.
Cross technology
StableNet® can be implemented on multiple platforms, such as cloud, server, network, or IoT environments.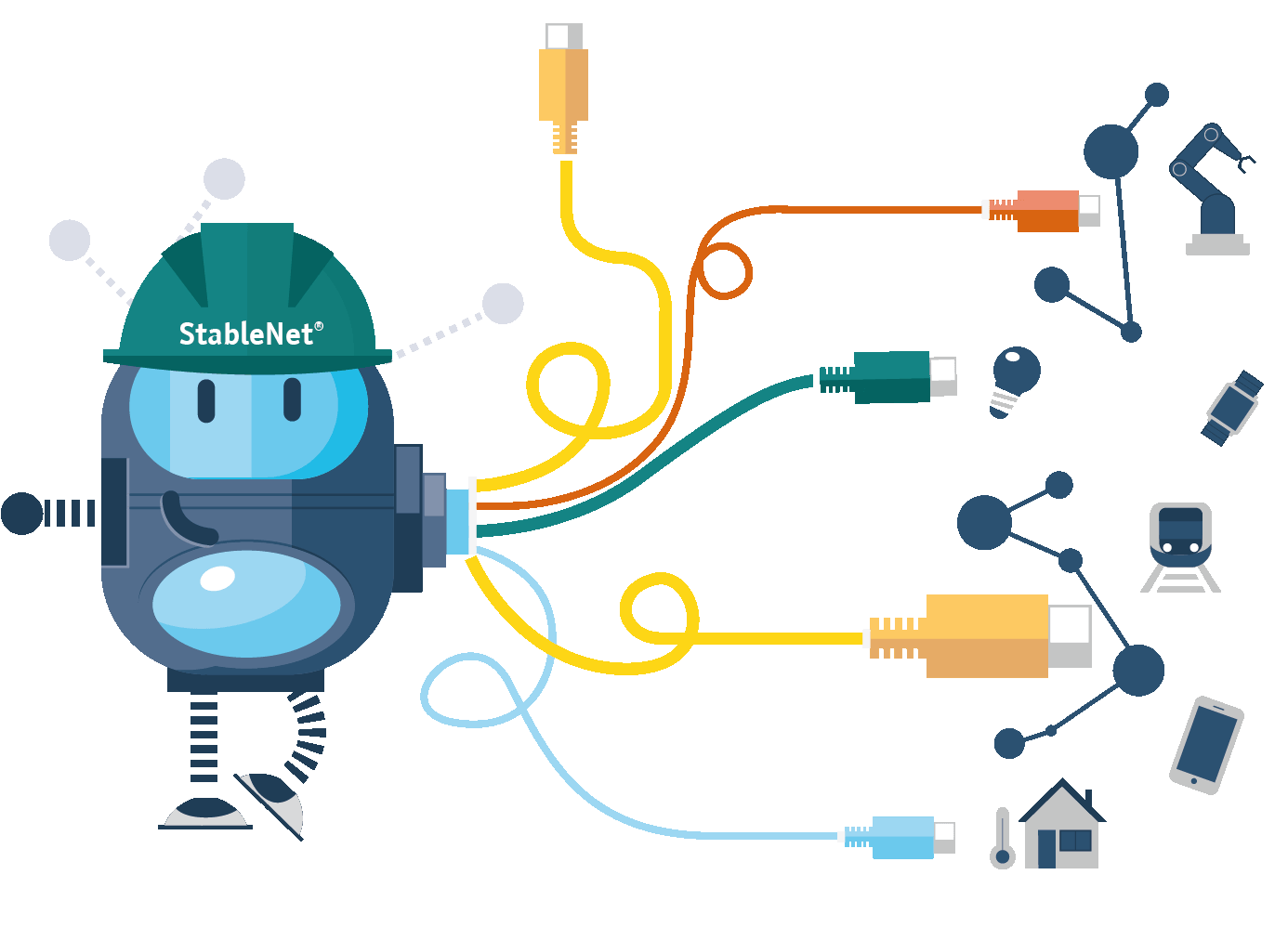 StableNet® Product Solutions
Network management at your fingertips!
StableNet® Telco
A unified Telco-grade solution providing Service Assurance, Service Fulfillment, Fault, Performance, automated Root Cause Analysis, Network Change & Configuration Management with open interfaces into your OSS environment.
StableNet® Enterprise
A unified management solution for IT Services, VoIP and Network Providers providing Fault, Performance, Root Cause Analysis, and Network Change & Configuration Management.
StableNet® as a Service
Software as a Service: On-demand application delivery – get the benefits of StableNet® without all of the up-front cost or ongoing complexity of maintenance.
Customers on StableNet® and Infosim®
"StableNet® Enterprise provides us with a comprehensive view of our network enabling us to track down issues, see operational trends, and generate reports. […] without it we would be severely limited in our ability to manage the network efficiently."
Gary Simpkins – Network Manager, SCC
""Every vendor says that its products can do everything. I really liked my Infosim® sales engineer. He answered all our questions, and didn't promise things that couldn't be done. The licensing was very transparent, and they made the price work. "
Brian Lubelczyk – Senior Manager Data Networking, Athenahealth
Tell me more about StableNet®!
Request a fully functional 30-day trial license for free to see StableNet® in action! If you have any questions or want more information on StableNet®, please don't hesitate to contact us.
for more information about StableNet®!
for more information about StableNet®!