StableNet®
Automated Network & Service Management
With StableNet®, you can automate management of even the most complex network infrastructures
StableNet® provides Discovery, Configuration, Fault and Performance Management and brings the fragmented pieces of your multi-technology and multi-vendor network infrastructure together under a single platform.
The automated network & service management approach has been successfully implemented in key industries like energy, finance, manufacturing, retail, telecommunications, and many more.
From Automated root cause to Zero touch provisioning, find out how StableNet® continues to be the industry leader for enterprise and telco network management.
What's new at StableNet®?
A comprehensive guide on TWAMP, exploring its significance, functionality, and how it helps maintain and enhance network performance.
On the occasion of our 20th anniversary we would like to thank our partners for their loyalty and support over the last years.
6 crucial network audit steps to ensure compliance and enhance security. Also discover how to perform them with reduced resources and time.
Get the Network Visibility you Need StableNet® Use Case - Performance & ServiceDiscovery & InventoryNetwork Configuration & ChangeFault Management & Root Cause AnalysisPerformance & ServiceGet the Network Visibility you Need: Choosing an...
Don't let your #networknotworkDon't let your #networknotworkDo you struggle with your network not working the way you want? Are there gaps in information preventing you from achieving holistic oversight? Whether you're grappling with issues related to network audits,...
As a leading 4-in-1 Solution, StableNet® covers functions from the following four pillars: Discovery &
Inventory
Improve network efficiency
and capture your assets
for insights Network Configuration & Change
Reduce configuration errors with vendor independent automation Fault Management & Root Cause Analysis
Resolve network problems quickly by getting pinpointed to the root cause Performance &
Service
Continuously measure KPIs and monitor SLAs to stay in control
Key Benefits of StableNet®
Consolidation
StableNet® unifies the management of multiple vendor-specific network tools and technologies, along with firm-specific databases, into one GUI.
Scalability
The Automated Network & Service Management solution StableNet® delivers a flexible framework that is scalable to any sized network.
Customization
StableNet® provides an excellent out-of-the-box solution which can be further customized to accomodate individual requirements.
Ready for automated network management?
Automation is at the core of StableNet®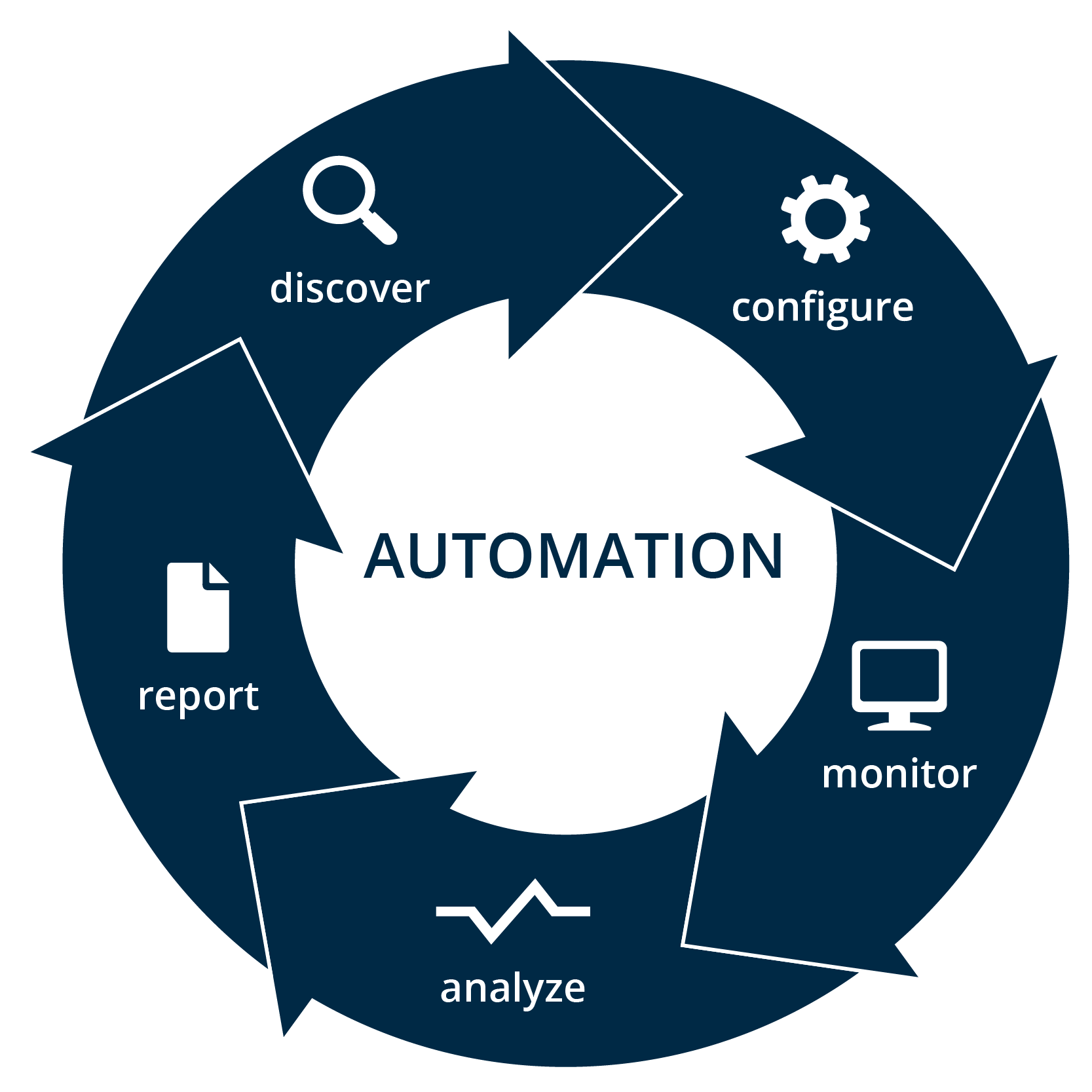 StableNet
®
delivers optimized automation workflows with immediate results, without the need for extensive upfront
programming investments.
With StableNet® you can save considerable time and, in conjunction with the consolidation of functionalities, significantly reduce costs (OPEX and CAPEX).
The network automation workflow is an iterative process which begins with repeated checks and discovery of your
inventory and moves through simplified configuration jobs, root cause analysis and continuous SLA monitoring, compliance tracking, and simplified and automated backups and reporting (with many steps along the way). While each network is unique, with StableNet® you can greatly simplify even the most customized tasks.
StableNet® in Action: Popular Releases
Available Product Solutions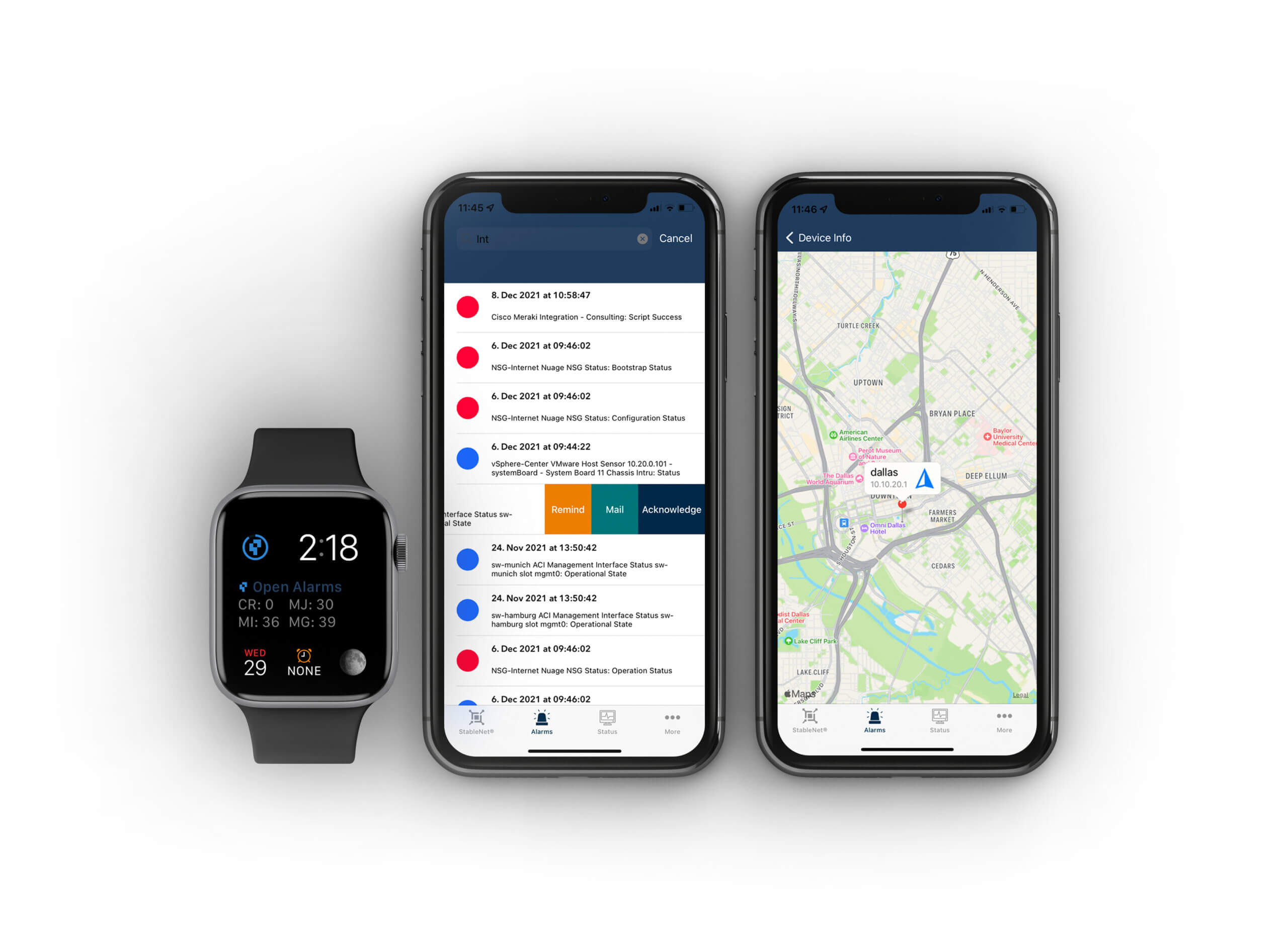 Vendor agnostic NMS in your pocket
Status & performance information
Reduced traffic & power usage
What our partners and customers say about us
"Dear Infosim® Team, Warmest congratulations on reaching this remarkable milestone – your 20th anniversary as a valued partner of Zoracom! Over the years, your unwavering support and dedication to our partnership have played a pivotal role in our success and growth. More than just a business partner, Infosim® has become an integral part of the Zoracom family. Your team's professionalism, integrity, and passion for what you do have made every interaction a joy and a learning experience. Here's to many more years of collaboration, growth, and prosperity!"
"Our fiber optic network is at the heart of 1&1 Versatel – on this basis, we implement high-performance networking solutions for our customers. With the Infosim® product StableNet® , we are introducing a state-of-the-art monitoring system with which we can further optimize our network and service operations and continuously improve the quality of our services."
"With StableNet® we see an opportunity to implement a network management solution that delivers a high degree of automation, simplification and is able to manage a technologically diverse network infrastructure."
"KedronUK and Infosim® were formed in the same year, 2003, and a few years later we began our important partnership. Infosim® and its team have been a huge part of KedronUK's growth and it's relevance to large UK Enterprises and Service Providers. We initially partnered with Infosim® because they were the first vendor that could provide an integrated approach to Fault, Performance and Configuration Management, at scale and in a single code set. We remained solid partners for over 15 years, because of the proven capabilities of the solution to adapt to different customer environments, but also because the integrity and skill of the whole team supporting StableNet®, from Tech Support right through to the Leadership Team. We're now happy to call those people good friends as well as business partners and look forward to many more years of success together!"
Ready for automated network management?